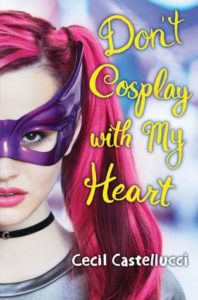 Edan has always loved everything Team Tomorrow, especially Gargantua, the awesome heroine-turned-villain of the long-running comic franchise – but it's not until the summer before her junior year of high school when she learns about the joys of attending comic conventions and cosplaying as your favorite characters. Trouble at home has her hoping to escape into her favorite fantasy worlds, and an upcoming live-action film adaptation of her favorite comic is the perfect place to pour all her nerdy energy.
There's a lot for a fan to love in Don't Cosplay with My Heart. After all, who hasn't desperately hoped to put together an awesome cosplay or fallen for a cute boy in the same fandom as they are? I mean, at one point Edan even gets butterbeer at Universal Studios – we are the readers author Cecil Castelluci is looking for!
I particularly appreciated Castelluci's attention to the types of sexism that often plague female fans: boys telling them they aren't "real" fans, objectification of female cosplayers, and general suspicion that they can't really be into video games or comic books or all of the other nerd-tastic things girls can love just as much as boys. And Castelluci doesn't just engage with these issues casually – they are a motivating force in this book and Edan's navigation of her social world. That is so important for young fans, male and female. Being a girl in fandom is not easy, and there are not enough novels that focus on that experience.
There are some times when Don't Cosplay with My Heart feels a little cheesy or forced. While I love going to conventions, and even cosplaying and playing video games, I don't think I've ever thought to myself, "Only exploring fantastical realms and destroying evil aliens can get me through the night." To Castellucci's credit, there are people who have dedicated years to studying how fan culture works, so it would be a lot to expect one author to pin it down exactly in a single novel. I would, however, probably recommend this book to readers in the 11 to 13 age range rather than the older YA crowd. Edan is also a pretty privileged fan – she can afford to buy the books, costumes, games, and other commercial "proof" of fandom that many young fans can't afford. Economic inequality (and its own ways of invalidating fandom) is a whole other issue in the nerd community, so perhaps we should let Castellucci handle one thing at a time.
All in all, though, I think this is an important book that lots of fans will love and connect with.
A copy of this book was provided by the publisher for review.