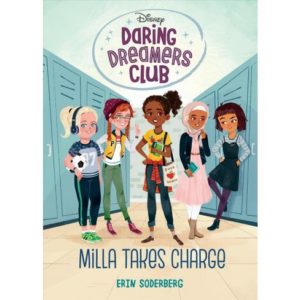 When you follow your dreams, the possibilities are endless!
Milla loves nothing more than imagining grand adventures in the great wide somewhere, just like Belle. She dreams of traveling the world and writing about her incredible discoveries. Unfortunately, there is nothing pretend about the fifth-grade overnight and Milla's fear that her moms won't let her go.
Enter Piper, Mariana, Zahra, and Ruby. Together with Milla, they form the Daring Dreamers Club and become best friends. But can they help Milla believe she's ready for this real grand adventure?
Diverse, talented, and smart, these five girls found each other because they all had one thing in common: big dreams. Touching on everyday dramas and the ups and downs of friendship, this series will enchant all readers who are princesses at heart.
This book is beautiful inside and out, just as all the princesses from Disney's movies taught younger girls to value. Here's a confession: When I was in fifth grade – the grade these girls are in – I read exclusively books about princesses. I refused to touch anything else. It was princesses or nothing. I watched all the princess movies I could find, including Disney's animated ones and the Barbie princess movies. In a word, I was obsessed. It's taken me this long to admit, but I think what I loved about the princesses was that they went out of their way to fight for their happy ending. I was an only child (like Milla!) and had very overprotective parents. I wanted the freedom to choose my happy ending, and I found that through princesses.
If I had this book when I was in fifth grade, I would've felt so understood. Milla's story resonated with me, and it has such a good message. This isn't even the main message to take away from the book, but this is what I found so startling: Erin Soderberg teaches children with overprotective parents that they get to have a reaction, too. I know this seems like a little thing, and one everyone should know, but I've been in many situations where I was scared my parents wouldn't say yes to something. Whenever I came across this situation, your first reaction – when you have overbearing parents, that is – is to worry about what your parents' reactions would be. It becomes so ingrained in you to worry more about them than about how you feel about the situation, which isn't helpful in the long run. This is something that's taken me 18 years to learn, and I hope this teaches any other young girls reading this that they deserve to feel excited and that they deserve to have feelings about situations, too. What Milla learns is that these feelings don't have to be overshadowed by her parents, and in a way, she proves to herself just as much as she tries to prove to them that she is deserving of being independent. It's such a well-written lesson.
There is a part when she says, "But I've also realized that it can sometimes be hard to see the best parts of yourself, unless someone else points them out." This is the part that made me realize how thoughtfully written this book was. It tells young girls – and other readers – that they have all these wonderful qualities that they just haven't noticed yet. I don't want to spoil much more, but I loved the princess element, and I love the girls and how diverse they were and kind they were to one another. I love that they had so much personality but were so accepting of one another and were always willing to find a way to include one another. I love the teacher, and I loved the illustrations! I hope these girls make others feel as understood as I did.
Milla Takes Charge is a great first book in a series, and it pulled off making Disney princesses relatable to everyone. That being said, I really want an adult book on Milla's parents and how they met and fell in love in Europe.
A copy of this book was provided by the publisher, RH/Disney, for review.