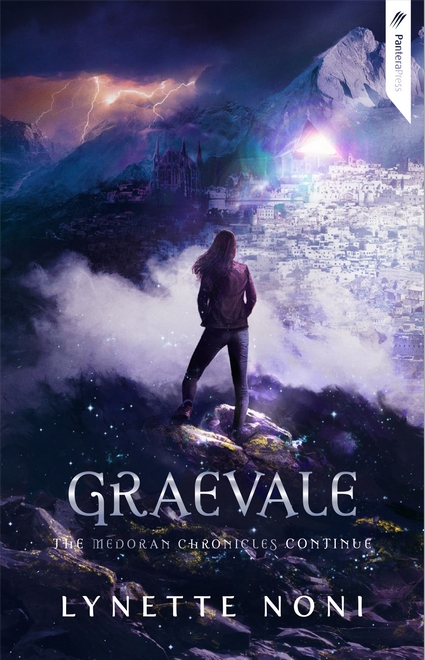 The Medoran Chronicles by Lynette Noni is currently composed of three books – Akarnae, Raelia, and Draekora – with the fourth one, Graevale, coming out in just two weeks on February 1. I was very excited to get my hands on all four books, and I started to read them right away.
This series focuses on Alex, a teenage girl whose parents send her to a new boarding school. She arrives at this new school, but before she can enroll, she finds a doorway into a new world, Medora. The first person she encounters in this new world is the handsome and mysterious Aven, who we soon find out is a huge threat to Medora. She then encounters two teenage boys, Bear and Jordan, who both possess special gifts. They take her to Akarnae, which is a school for people who have gifts. Alex, unable to return to her world, ends up enrolling in the school and begins to learn about the world of Medora.
Alex spends her days attending classes like Combat, Archery, Equestrian Skills, Species Distinction, PE, and many more. When she is not in class she spends time with her friends, does homework, and hangs out in the library. Typical school stuff, right? Not really – the library is sentient and it has chosen Alex to have complete access to its many hidden rooms and doorways, some of which lead to different locations across Medora. One of these doors leads to the Lost City of Meya, where the ancient race of Meyarins lives. Aven, a Meyarin prince who was banished from the city, wants to take his throne and destroy all humans. It is up to Alex to unite all of the races of Medora to defeat Aven.
My favorite part of the series was the library. I love the thought of a magical library filled with hidden levels and doors to almost anywhere. The best part is that it is sentient and can actually communicate with Alex. I spent a lot of time thinking about what I could have done with a library like that back when I was in school. Every weekend, I could travel to a new place and never technically leave school grounds. That would be amazing.
Each book makes you devour it and then rush to start the next one. I ended up finishing all four in less than a week. I am now a huge fan of this series and Lynette Noni after reading these books. They made me feel like I needed to go out into the world and explore new places. Maybe even try to find a new world like Alex did.
A full set of The Medoran Chronicles was provided for review by the publisher.
———
How do you win a full set of The Medoran Chronicles, signed by author Lynette Noni? Simply enter our giveaway here!