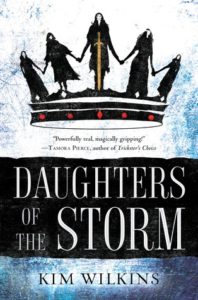 King Athelrick of Almissia has five daughters: Bluebell, the fearsome warrior next in line for the throne; Rose, wed to the King of Nettlechester but in love with another man; Ash, preternaturally gifted with the second sight; and Ivy and Willow, twins separated from their family for many years and just starting to discover what kind of women they will become. When Athelrick falls mysteriously ill, Bluebell is certain an assassination attempt is underway. Believing that nothing is more powerful than the bonds of family, she convenes her sisters in a plot to save the King. But there are already more forces at play than Bluebell knows, and even her sisters' loyalty is not guaranteed.
Daughters of the Storm is the first in an epic fantasy series, perfect for fans of Robin Hobb or Tamora Pierce (both of whom provide glowing blurbs for the books). It reads like a mix between A Game of Thrones and The Queen of the Tearling and should provide fans of either series with lots of juicy new reading to delve into. I should note that, Tamora Pierce comparisons aside, this is not a YA novel, though there's no reason older teens wouldn't enjoy it.
Like much of today's best fantasy, the book's chapters rotate through the points of view of its ensemble, primarily Bluebell and her sisters, but with a few more perspectives thrown in as well. Author Kim Wilkins's cast of characters is vividly drawn, and it won't take long for you to be drawn into the intrigue and family drama unfolding in the pages of Daughters of the Storm. At 431 pages, the novel is shorter than you might expect an epic fantasy to be, and the story is a surprisingly quick read. The book was originally published in Australia in 2014, and I'm already hoping that the second book in the series – Sisters of the Fire – will make its way stateside sooner rather than later.
I'm not sure I like Bluebell, per se, but she is a truly compelling character, and one we don't get to see that often – a female warrior who is revered and respected for her talents and not used as a pawn in someone else's plans. If nothing else, I definitely like reading about her. Though her sisters assume more familiar roles in fantasy – the lovelorn beauty, the lusty damsel, the practitioner of a weird and fervent religion, etc. – what's unusual is getting to see them all take center stage with relatively little intervention from men.
If I have one critique of the novel, it's that the prose can be a little blunt and overwrought, which takes me out of the story because I can't help but giggle. Even so, Wilkins's style keeps the plot moving along at a quick pace, and I really enjoyed reading the book – once I got over the realization that I would have to wait for the sequel(s) for any kind of closure, that is!
Definitely check Daughters of the Storm out if you are a lover of epic fantasy.
A copy of this book was provided by the publisher for review.