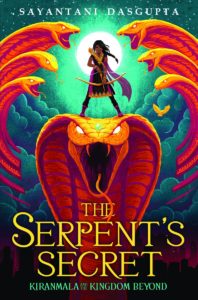 Kiranmala isn't quite sure what to expect on her 12th birthday, but it's definitely not all of the stories her parents told her turning out to be true, especially when those stories involve demons and Kiranmala being a princess, the daughter of an underworld serpent king. She also doesn't expect her parents to get kidnapped by a rakkhosh, or be flown into another dimension, or to end up getting life advice from a bird – but she doesn't have much choice in the matter. Can a regular girl from New Jersey find her inner hero and save the day? Heck yes, she can.
I really enjoyed The Serpent's Secret, Sayantani Dasgupta's first installment in her new series Kiranmala and the Kingdom Beyond. This middle-grade adventure is perfect for fans of Rick Riordan or Ms. Marvel and is an exciting start to what is sure to be an excellent series. The action doesn't let up for a minute – neither do the jokes – and Dasgupta expertly weaves Kiranmala's experiences of growing up the daughter of immigrants in with fantastical magic and storytelling.
In addition to Kiranmala herself, who is delightful, The Serpent's Secret is populated with a lively cast of accomplices and fiends, including Neel and Lal, two handsome princes from another realm with secrets of their own; Neel's mother, a half-rakkhosh queen who at one point incredulously asks, "Have I raised some kind of demonic sexist? A purveyor of rakkhosh patriarchy?" (at this point, my response was identical to Kiranmala's: "Huh. Maybe I liked Neel's mother more than I realized"); Tuntuni, a wise – and wise-cracking – bird who is advisor to the king; and countless others. Dasgupta has populated her world with an animated cast of characters that I can't wait to meet again.
I definitely recommend giving this series debut a try!
A copy of this book was provided by the publisher for review.