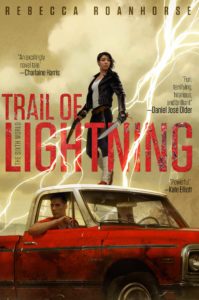 Maggie Hoskie is a monster hunter, blessed – or, as she often thinks of it, cursed – with clan powers that make her a frighteningly effective killing machine. Too effective, according to certain people in Maggie's life, including her divine mentor/lover Neizghánί, who abandoned her nine months ago. Working to forget him is part of the reason Maggie takes up her latest case, hunting hard-to-kill monsters responsible for the brutal death of a local girl. Grudgingly, Maggie accepts the help of Kai Arviso, a too-handsome medicine man with secrets of his own.
In Trail of Lighting, author Rebecca Roanhorse gives readers a gritty, spectacular introduction to the Sixth World, a post-apocalyptic Earth where catastrophic climate change has left America decimated. In the wake of events that destroyed most of the nation, Navajo country, now known as Dinétah, was spared and is experiencing a renaissance of power unseen for hundreds – if not thousands – of years. Gods and monsters walk the earth, and it's up to people like Maggie and Kai to deal with them.
Roanhorse's first installment in a new series is a quick-paced read that I sped through in just a couple of hours. Her world is richly imagined, her characters compelling, and I was definitely left wanting more. It reminded me a bit of Charlaine Harris's novels, or of Jim Butcher's Dresden Files – dark, sexy fantasy with a lot of ass-kicking involved.
I loved how Roanhorse incorporated Navajo mythology into the world of her novel, and I'm really excited to see where Maggie's story goes from here (the only downside to starting a series like this early is that you have to wait for the next books rather than devouring them all at once). While things never get too hot and heavy in Trail of Lightning, Kai is definitely a crush-worthy distraction for Maggie (and, uh, some readers). If I had one complaint, it was that it was all over far too soon.
A copy of this book was provided by the publisher for review.