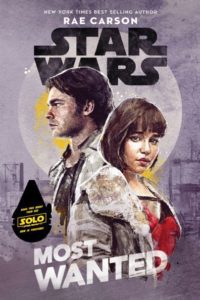 In Most Wanted, Rae Carson – author of the popular Girl of Fire and Thorns trilogy – treats readers to an adventurous tale that takes place shortly before the recent film Solo: A Star Wars Story. Han and Qi'ra are both competing for a promotion within Lady Proxima's gang, the White Worms. With the promotion comes more security, more power, and (hopefully) more food, so when Lady Proxima sends them off on a particularly risky mission – and promises the promotion to whoever successfully completes it – they both jump at the chance. Almost immediately, Han and Qi'ra discover that their lives are in danger and that they'll have to work together if they want to make it back home alive.
Although Most Wanted is ostensibly a YA novel, it really reads more like a middle grade title, barely skimming the surface of the emotional depths of characters who are supposedly around 18 years old and suffering from a lifetime of trauma. This isn't necessarily a bad thing; the plot moves along at a quick trot and should make for fun, thoughtless reading for Star Wars fans who can't get enough of young Han Solo.
Those who are hoping for more backstory on Han and Qi'ra's romance, however, will be disappointed. The versions of the characters who appear in Most Wanted feel more like 12-year-olds than passionate lovers about to make a break for it. In my own personal version of canon, I'm just going to pretend they are a few years younger than the novel suggests, because I had imagined their romance growing out of a deep, years-long friendship after watching Solo – why else would they be so devoted to each other?
Romance aside, I don't have much to complain about here. The prose is a little clunky at times, likely because of the demands of fleshing out a story presumably provided by the Star Wars powers that be with only minimal room for maneuvering independently, but once I got into the story, it didn't really bother me. We get a few more tantalizing insights into the droid liberation movement glimpsed in the film, which I enjoyed, and I read the whole thing in just about three hours. If you're a Star Wars fan, Most Wanted makes great beach reading; if not, you may want to stick to Carson's other work.
A copy of this book was provided by the publisher for review.