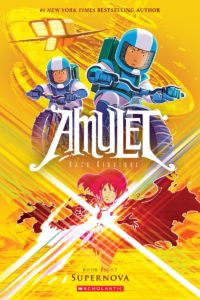 With the release of the eighth installment of the Amulet series, Supernova, the good news is that we're finally only one volume away from the conclusion of this long-running and beloved graphic novel series. The bad news is that the penultimate volume revs up the tension almost to its breaking point, meaning that the wait for Volume 9 is going to be almost unbearable.
It makes it worse that in the two-and-a-half years since Amulet Volume 7, Firelight, was released, I had somehow convinced myself that there were only eight installments in the series. That's completely my fault, of course, but imagine my surprise (and despair) when I reached the end of Supernova and realized I wasn't going to find out what happens to Emily, Navin, and Trellis just yet. (But also – yay! One more Amulet book to enjoy.)
But you don't want to read about my treacherous memory – you want to know all about Supernova.
At the end of Firelight, Emily succumbs to the Voice that threatens all stonekeepers, and Navin and Aly head for the Resistance's space operations, with Trellis and Vigo left to lead the Resistance on Alledia. As Supernova begins, Trellis and Vigo come face to face with Emily's dark Phoenix form in an encounter that they hope will reveal that Emily – the real, good Emily – is still in there somewhere. Meanwhile, Navin, Aly, and some unexpected new friends are embarking on their first mission for the Space Station Lighthouse One.
With Supernova, creator Kazu Kibuishi is beginning to draw his fantasy epic to a close. As a result, everything that happens, happens BIG, with both long-awaited revelations and explorations of new realms of the Amulet universe – Navin and Aly's otherworldly adventure is especially charming (despite its near-disastrous conclusion). I think that by now we've established that you really can't go wrong with this series, and Supernova is no exception.
A copy of this book was provided by the publisher, Scholastic, for review.