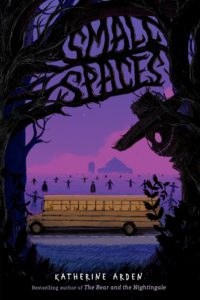 Ever since her mother's death, Ollie has preferred to dwell in the realm of books rather than deal with the kids in her class – they all seem to think she's pretty weird anyway. So when one October day she witnesses a distressed woman ready to throw a book into the stream, she snatches it out of the woman's hands and flees. Inside its covers, Ollie finds one of the most captivating stories she's ever read… but she can't help but wonder why the book bears such similarities to the legends about local Smoke Hollow Farm. And what could the woman's strange warning – "Avoid large spaces – stick to small" – mean?
Older readers might be familiar with Katharine Arden from her Winternight fantasy trilogy for adults, but Small Spaces is the perfect spooky reader for middle-grade readers this October. When Ollie's class takes a field trip to Smoke Hollow Farm, she finds that the stories in her book are all too real – including ones about disappearing children. When Ollie realizes that something supernaturally sinister is at work, it's up to her to save not just herself but the rest of her class, too.
Only two other kids – sporty but kind Brian and the other class "weirdo," Coco – believe her warnings, thrusting the three of them out on an adventure they definitely didn't anticipate when looking forward to a beautiful fall afternoon on a farm. As Ollie and her friends try to stay out of the hands of some very spooky scarecrows, they'll also receive some special, inexplicable help from Ollie's mother. In a weird way, this frightful adventure is just what Ollie needs to begin to heal.
I really enjoyed this book, which had me longing for cool weather, changing leaves, and apple cider when I read it back in June. (Actually, I live in California, so I'm still longing for them…) Scary books for kids can be a tricky genre to handle because the author must strike the right balance between fear and hope. Arden manages to do just that – even I was a bit unsettled by the particular horrors Ollie faces, though everything, of course, turns out okay in the end. This is an especially fun Halloween read but is good enough to revisit at any time of the year.
A copy of this book was provided by the publisher, Penguin Young Readers, for review.