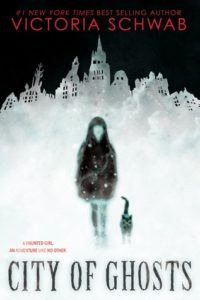 Ever since Cass almost drowned on her last birthday, she's developed a strange connection with the land of the dead, capable of crossing to the other side of the "Veil" and encountering the ghosts trapped there. Her accident is also how she met her best friend, Jacob, a ghost able to cross the boundary just like Cass. Cass hasn't told anyone about her abilities – not even her parents, who are paranormal investigators. When Cass and her parents arrive in Edinburgh to film a documentary, Cass learns that not all ghosts are as friendly as Jacob…
While City of Ghosts is technically a middle-grade book aimed at readers from ages 8 to 12, it also makes a fun afternoon's reading for older fans. I'm showing my own age by admitting that I was strongly reminded of the late nineties television program So Weird. Cass and Jacob make a dream team for solving otherworldly mysteries, and I'm excited to see where further adventures might take them.
When Cass is in the Veil, she's able to see ghosts playing through their last moments, stuck in infinite loops replaying the circumstances of their deaths. While City of Ghosts was mostly interested in one particularly vengeful ghost, I most enjoyed the quieter moments of the story, when Cass and Jacob encounter more benign specters. These moments can be sad, but there are hints that future books will engage more with these "regular" ghosts, which I think could be really interesting. I'm assuming at some point, we'll also learn more about the circumstances of Jacob's death – and if I'm being honest, I'm dying to know (I'm so sorry) (not sorry enough to delete the pun, though).
Finally, since the overlap between fans of Harry Potter and fans of Victoria Schwab is pretty large, many readers will be pleased to spot several references to the boy wizard throughout Cass's story. There are so many, in fact, that non-readers of Harry Potter (I've heard a rumor they're out there!) might find certain moments to be a bit confusing. A fellow MuggleNet staff member also pointed out that one of the Potter references might be slightly inaccurate – but the book is cute enough that we'll let it slide!
A copy of this book was provided by the publisher, Scholastic, for review.