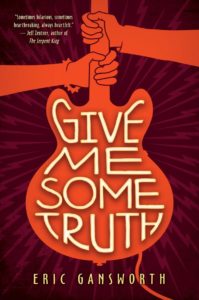 In Give Me Some Truth, author Eric Gansworth returns to the Tuscarora Indian reservation, also the setting of his 2013 novel, If I Ever Get Out of Here. Though not technically a sequel – you can read either book without the other – the novels do share characters in common, with Give Me Some Truth picking up in the summer of 1980, a few years after If I Ever Get Out of Here left off.
The novel has two viewpoint characters who alternate chapters throughout the novel: Carson Mastick, a high school senior and committed lead singer of his rock band, and Maggi Bokoni, a talented artist who'd rather use her talents to create contemporary and experimental works than the traditional knickknacks her family sells at the local market.
An upcoming battle of the bands competition – in which the winner receives $1,000 and a trip to New York City – provides a loose framework for the events of the novel, but the book is much more invested in tracing the turbulent experiences of its protagonists than it is following Carson and Maggi to victory or defeat in the competition. After reading it, I can tell you that's a very good thing, even though it makes it a little harder to give you a succinct idea of what this book is "about." Beyond the loves and lusts that all teenagers grapple with, Carson and Maggi also deal with the realities of being young Indians navigating life on and off the reservation.
Carson gradually awakens to the world of political activism while protesting against the racist owner of "Custard's Last Stand" restaurant, while Maggi explores a taboo relationship with a white coworker almost twice her age. Unlike most dually-narrated novels, Maggi and Carson aren't sharing one narrative; it's more like their stories intersect at significant points. As in If I Ever Get Out of Here, Gansworth's narrative is accompanied by plentiful musical references to the work of the Beatles and its individual members (and partners, in the case of Yoko Ono).
Give Me Some Truth reads a bit like Freaks & Geeks on an Indian reservation, where the geeks aren't so much into Dungeons & Dragons as they are art and music. I really enjoyed the book, with my only qualm being Maggi's relationship with her much older admirer. It may be because I'm an adult reading a novel for teens, but it was really hard to observe Maggi continuing to engage with this character over hundreds of pages.
The novel doesn't promote this relationship – far from it – but neither does it nip the inappropriate relationship in the bud; Maggi's relationship with this man unfolds gradually and progresses pretty far through the course of the novel. On the one hand, I appreciate that Maggi's experience may be true to those of many young women, especially in the 1980s; on the other hand, I wish it hadn't occupied so much of her time. She has the chance to grow and develop as a person and artist across the novel, just as Carson does… but I wish less of that growth was in the company of a dirty old man.
As always, I loved the Beatles references and Gansworth's exploration of what their music meant to people, even long after the band broke up. His depiction of Maggi's and Carson's journeys is unflinching and powerful; I highly recommend it.
A copy of this book was provided by the publisher, Scholastic, for review.