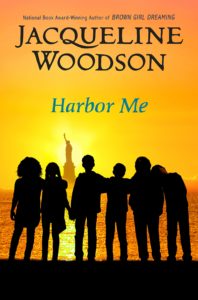 Early in the school year, Haley's teacher walks her six students to an empty classroom and tells them the hour is theirs, to talk to each other without an adult around. At first, Haley feels awkward. She doesn't mind talking to her best friend, Holly, but she doesn't know Esteban, Amari, Tiago, and Ashton that well – definitely not well enough to tell them that her dad's in prison. But as the year unfolds, the group starts to trust one another – even with the hard things in their lives – as they learn to follow the advice Ms. Laverne gave them at the beginning of the year.
"Ms. Laverne said every day we should ask ourselves, 'If the worst thing in the world happened, would I help to protect someone else? Would I let myself be a harbor for someone who needs it?' Then she said, 'I want each of you to say to the other: I will harbor you.'"
Jacqueline Woodson's latest novel for middle-graders is a breathtaking gem. Haley's story is a gentle one that somehow hits the reader with remarkable force. Just like real kids, Haley and her friends are dealing with all the stuff adults hope we can shelter 11-year-olds from: racism, unjust immigration laws, loss, and change. Harbor Me doesn't shy away from the complexity or pain involved in any of these realities, but lets each character have the space to express the truth of their lives in a safe environment.
The ARTT room – A Room To Talk – is a place where vital conversations happen, from Haley finally sharing her secret with her friends to Ashton learning from his friends that not thinking about the fact that he's white is a privilege none of them share. The group of friends doesn't always agree, but they're always there to support one another.
As an adult reader, Harbor Me gives me hope for the future – hope in the small, vital instances of understanding that I hope this book sparks in each of its young (or older!) readers. It's hard to come away feeling like Woodson isn't harboring every one of us as we read through her lyrical book.
A copy of this book was provided by the publisher, Penguin Young Readers, for review.