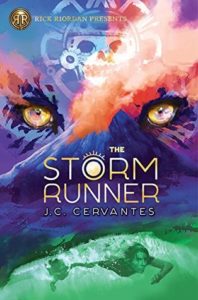 Zane Obispo has always been a social outcast, and living in the New Mexican Desert with elderly neighbors didn't help that situation. The best part of living in the desert was the dormant volcano that was practically in his backyard. He has always felt a connection to this volcano, and it is where he spends most of his free time. Little does he know, deep in the center of the volcano is an ancient relic that is tied to Zane and the future of humanity. On his first day at his new school, he meets a beautiful girl surrounded by mystery. Before he realizes what is going on, he is in a battle of life or death, while holding the fate of the world in his hands.
When I first started reading this book, I was really skeptical because it felt exactly like reading The Lightning Thief by Rick Riordan. Outcast hero, broken oath, a mysterious stranger acting as a catalyst, and restless gods facing an impending war. The further that I got into the book, the more excited and engrossed I became. Not only did the aspect of learning about Mayan Mythology intrigue me, but the way the story plays out keeps you hooked until the end. Much like how Riordan's novels delve into Greek, Roman, Egyptian, and Norse mythology, Cervantes creates a story using Mayan mythology. It is a great introduction into a culture's beliefs that I knew nothing about.
I found the characters to be well developed and authentic – not just Zane, but also Brooks and Jazz, Zane's costars on this adventure. Brooks is a teenage girl who is looking for the only family that she has left – a missing sister. In hopes of getting her sister back, Brooks is always trying to do what she feels is right, hoping one of the gods will aid her in her quest. Jazz is a giant with a talent for invention and a huge heart. He and Brooks have been friends for a long time, and several of his inventions really save the day for our heroes. Zane himself is the outcast that is buried deep within all of us – due to a deformity from birth, he needs to use a cane to walk and never really fit in. I empathized with Brooks about her family, Jazz's enthusiasm for his products was infectious, and the desire in Zane to make things right was relatable.
Sections of the plot were predictable, following the pattern of the mythic hero novels that Riordan paved before it. However, the newness of Mayan mythology and all the stories that it encompasses kept me hooked until the very end.
A copy of this book was provided by the publisher, Disney Hyperion, for review.