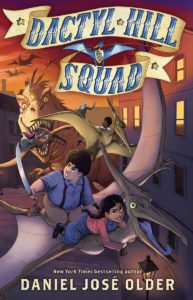 When New York's Colored Orphan Asylum is destroyed in the Draft Riots of 1863, Magdalys Roca and her friends simultaneously lose their home and become targets of a nefarious slave-trading network that kidnaps free black people from the North and sells them into slavery in the South. In the chaos, many orphans are captured, and it's up to Magdalys and her friends to save them. Luckily, the group is taken in by Brooklyn's Dactyl Hill neighborhood, a community where black and brown New Yorkers are mounting a resistance. Magdalys also discovers a secret talent to aid them on their quest: She can communicate with dinosaurs. (Yes, it is the Civil War and there are also dinosaurs – it's great.)
Maybe I was coming into Dactyl Hill Squad biased because I enjoy Daniel José Older's books so much, but I loved this book. Magdalys is a hero to root for, and the book is the perfect balance of non-stop action and meaningful connection among characters. And don't let the fact that there are dinosaurs in this book fool you – it's also full of real history, addressing many aspects of the Civil War that are usually glossed over in books for children (including the myth of the North as a safe haven free from racists).
What's more, though I don't want to reduce Dactyl Hill Squad to simply making Civil War history more palatable by populating 19th-century America with dinosaurs, it is a super smart combination that has the potential to draw in readers who might otherwise avoid historical fiction. I think the rest of us must have taken the stern assertion of our teachers – that "humans and dinosaurs never coexisted" – a little too seriously, because the combination of fact and fantasy in this novel is pure genius.
It almost goes without mentioning that Dactyl Hill Squad is also a great dinosaur novel. When I was a bookseller, I constantly got requests from dino-obsessed kids looking for a great read; I can confidently say that Dactyl Hill Squad will be warmly received by dinosaur-loving children everywhere. I haven't read another book like it. And the best news of all? Magdalys and her friends will be back for more adventures in future installments of the series.
A copy of this book was provided by the publisher, Scholastic, for review.