Rose Tico: Resistance Fighter and Bomber Command by The Last Jedi novelization author Jason Fry provide readers with an inside look into the minds of Rose and Paige Tico, two sisters who are introduced in the second installment of the Star Wars sequel trilogy. While both books are quick reads aimed at younger readers, they provide a deeper look into the characters' backstories, emotions, motivations, and perhaps most importantly, their relationship to each other.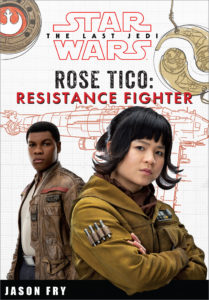 Rose Tico: Resistance Fighter is a first-person narrative in the form of a journal written by Rose detailing her journey from a girl living on the planet Hays Minor in the Otomok system to a member of the Resistance under General Leia Organa. If you were wondering how Rose came to be in the Resistance base on D'Qar, then this is the book for you! In addition to her journal entries, the book is filled with illustrations, ship schematics, and pages with additional information and insights (such as the Mining Guild's Survey/Operations file for the planet Crait, more details about the resort city of Cantonica – Canto Bight, and a guide to some of the card games played in the Star Wars universe). Some of these additional pages even fold out!
I loved all of this additional information, as I relish in learning anything I can about the Star Wars universe. However, Rose Tico: Resistance Fighter is very much a simplified retelling of The Last Jedi, just from her perspective. I personally would have loved to have learned more about her backstory. Despite this, this book does a wonderful job of really revealing Rose's feelings and her motivations and how important her relationship with her sister, Paige, truly is. You can purchase Rose's story here.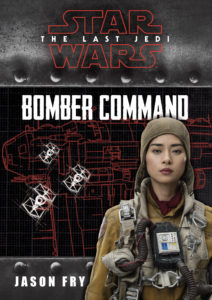 Like Rose Tico: Resistance Fighter, Bomber Command is also a first-person narrative in the form of a journal; however, this time it's in the voice of Rose's older sister, Paige. This book sheds light on Paige's backstory, her relationship with Rose, and her journey with the Resistance. This book also contains detailed drawings, schematics, information pages, and fold-out pages. If you ever wanted to learn more about bomber squad tactics, flight formations, bomber crew slang, and what to do in the event of a bomber crash, then definitely check out this book!
I went into Bomber Command excited to learn more about a character we unfortunately could not get much exposure to in The Last Jedi but instead found myself absolutely wrapped up in all of the details about being part of a bomber squadron! I was also pleasantly surprised to see illustrations and information about creatures introduced in the Star Wars animated show Rebels. One of my favorite things about the Star Wars franchise is how it all connects across the various media. You can purchase a copy of Bomber Command here.
Overall, my favorite of these two books was definitely Bomber Command, as it provided much more new information and helped flesh out a character we were unable to learn much about in The Last Jedi due to her early death. It also makes a wonderful companion to Cobalt Squadron by Elizabeth Wein. However, I definitely recommend picking up and giving both of these books a read if you left The Last Jedi wanting to know more about the Tico sisters or are just generally interested in learning anything and everything you can about the galaxy far, far away!
Now you can win a copy of each book for yourself! Starting November 7 through 11:59 p.m. November 20, you can enter to win a copy of Rose Tico: Resistance Fighter or Bomber Command from Media Masters Publicity! This contest is open worldwide, so what are you waiting for? Enter below for your chance to win!
Copies of these books were provided by the publisher for review.