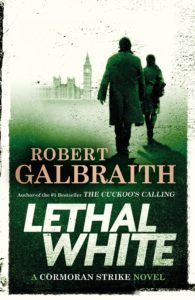 NOTE: This review will not spoil the ending of Lethal White, but it will discuss some events and plot developments. If you would rather not know anything about the book before reading, stop here! If you're looking for a completely spoiler-free review of Lethal White, check out hpboy13's review right here.
Readers may have come to the Cormoran Strike novels looking for good mystery stories, but many of them stayed for the romantic tension between the series' eponymous detective and Robin Ellacott, his assistant-turned-partner. That's what made the three-year wait between the release of Career of Evil and that of Lethal White so excruciating – we weren't just waiting to see what caper Robin and Strike were off on next, we were left on the cusp of Robin's wedding to the loathsome Matthew. Even if you have no particular investment in Robin and Strike as a couple, I don't think anyone was thrilled to think about Robin marrying a guy so carefully crafted for us to hate.
Luckily, Galbraith doesn't make us wait any longer than the opening pages of Lethal White to find out what happens next: The book begins at Robin and Matthew's wedding. Yes, readers, brace yourselves: They do get married. But Strike is in attendance at the ceremony, albeit somewhat begrudgingly, and there are plenty of reasons for Robin/Strike shippers to keep the hope alive.
In fact, ample time devoted to the state of both Robin's and Strike's respective love lives explains the novel's hefty length. Honestly, I was rather reminded of the epilogue of Deathly Hallows, in the sense that Rowling – er, Galbraith – can't keep herself from letting us in on everything she knows about her characters. Not that I'm complaining – the Hallows epilogue might leave me lukewarm, but I am completely here for however much Galbraith chooses to let on about Robin and Strike. Sure, it's all a bit soapy… but I love it anyway.
Of course, the real magic of Lethal White is that it combines compelling interpersonal drama with a carefully crafted mystery. At the end of Career of Evil, I was a little disappointed to feel that the "solution" relied upon a piece of information the reader probably didn't know (unless they happen to be very familiar with the flora and fauna of Cornwall). I'm not really a "good" mystery reader in the sense that I rarely put much effort into trying to figure out "whodunit" ahead of time, but I do enjoy coming to the end of the story and seeing that all of the pieces were there for me to find, had I been ambitious and clever enough to look for them. Lethal White didn't disappoint in this regard – quite a relief after devoting 647 pages of time to the story. That's not to say that Galbraith doesn't throw in a red herring or two, but it's nothing that I would consider "unfair."
So what exactly are Strike and Robin investigating this time around? It begins when a troubled young man, Billy, rambles into Strike's office talking about a crime he witnessed as a child before abruptly fleeing in a state of paranoia. Strike is unable to locate Billy afterward, but, as luck would have it, his next case is connected in unexpected ways. It's more fun to let the details fall into place as you read the book, but Lethal White does offer a sneak peek at the inner workings of Parliament, much like The Silkworm gave us a glimpse of London's publishing elite. At this point, it's almost ridiculous how many different identities Robin is able to assume in the line of work (or maybe it's not; what do I know about being a detective?). In Lethal White, she's practically achieved superhero status, which, really, I'm fine with.
Although you may be tempted to rush through any new writing J.K. Rowling offers, I'd recommend savoring Lethal White if you can. I read it over a few days, instead of the speed-read I normally indulge in, and it was such a nice feeling to know that I had more Strike and Robin to look forward to every evening. While everyone's distracted with Fantastic Beasts, you may find that with Cormoran Strike you're able to have a little corner of Rowling-world back to yourself again.
A copy of this book was provided by the publisher, Mulholland Books, for review.