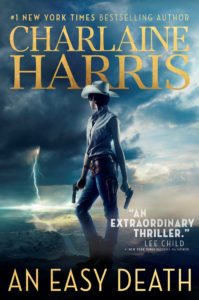 When thinking of stories that are set in Texas, a pair of Russian wizards on a quest is not what usually comes to mind. Bestselling author Charlaine Harris, however, easily creates a world in which this seems more than possible in her newest book, An Easy Death.
Set in a dystopian and fractured United States under new foreign powers, this paranormal Western follows young gunslinger Lizbeth "Gunnie" Rose across parts of the South that have been reincorporated into Mexico. The Holy Russian Empire now reigns over much of the western US and is home to magical beings known as "grigoris." Gunnie Rose's sharpshooting skills land her in the crosshairs of two grigoris who hire her to safely lead them from the Texoma region across the border into Mexico in search of another wizard. While Gunnie Rose is rightfully wary of the mysterious grigoris, she hides her own secret motive for accompanying them on this dangerous journey.
Harris's clean, uncomplicated writing style complements the arid desert through which Lizbeth and her Russian companions trek, lending credibility to the magical elements without oversaturating the story. This makes for a smooth read, especially since the protagonist herself is as quick as her aim and Gunnie Rose somehow knows the best way to get out of the tricky situations she inevitably encounters.
As a huge fan of Harris's other two series, True Blood and Midnight, Texas, I have always enjoyed her ability to build literary worlds as ordinary as our own with just the right touch of magic to make them believable. Her focus on each character's personality is done precisely, and readers easily become invested in both the supernatural and the mortal elements that blend together so well. However, since An Easy Death is intended to be the first in a series, some of the storylines and scenes will hopefully be developed in more detail down the line so that audiences can feel fully engaged with this unique story. With the book's ending definitely leaving me wanting more, I look forward to more of Lizbeth's adventures; after all, a magical Wild West showdown is something you do not want to miss.
A copy of this book was provided by the publisher, Saga Press, for review.