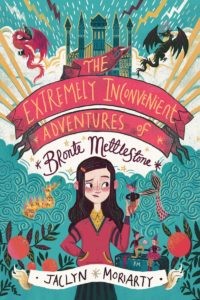 Bronte Mettlestone has just learned her parents have been killed by pirates. Since she hasn't seen them since she was a baby, this news isn't as devastating as one might expect, but it is rather… inconvenient, especially since they've left her a set of faery cross-stitched instructions: If Bronte doesn't follow them, her town will be destroyed. And so Bronte sets off on a quest to visit all 11 of her aunts, spread out across several kingdoms, and deliver the strange gifts her parents left for them. She'll have plenty of adventures along the way, as long as she can avoid the dangerous Whisperers, who steal children and take them away to the Whispering Kingdom.
When I learned that the author of the Colors of Madeleine trilogy was releasing a new book, I knew I was in for a quirky, fantastical delight – and The Extremely Inconvenient Adventures of Bronte Mettlestone doesn't disappoint! As in that series, Jaclyn Moriarty manages to combine compelling fantasy with eccentric whimsy that always avoids being cloying. It also reminded me in some ways of S.E. Grove's The Glass Sentence: both Moriarty and Grove craft female-driven, epic middle-grade fantasies that are full to bursting with imagination and warmth.
Bronte's visits to her various aunts – who range from two crack cruise ship captains to an extremely distracted woman who doesn't share her breakfast sausage – would fit right in with classics of children's literature in which the protagonist finds themselves cared for by questionably competent adults, but I love how Moriarty manages to make these encounters fresh and new, whether it's by revealing that one kingdom chooses its monarchs by election (and whose current ruler is a single mother) or that another has a yearly soccer match with foot-high elves.
If you're looking for a novel that's equal parts magical and cozy for the children in your life, The Extremely Inconvenient Adventures of Bronte Mettlestone is a good place to start!
A copy of this book was provided by the publisher, Scholastic, for review.