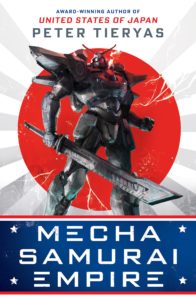 The first thing that comes to mind when looking at the cover of Mecha Samurai Empire is a science fiction adventure beyond your wildest dreams. The looming robot pictured resembles those of Pacific Rim or Gundam, but Peter Tieryas's take on the genre goes far deeper than just awesome battle bots. The empire he creates is a re-imagined America, in which Japan and Germany have divided the nation after winning World War II. From there, Tieryas rewrites history entirely: Neo-American terrorist groups lurk in the shadows, swastikas are a common fixture of everyday life, and the United States of Japan is far more technologically advanced than our reality, having created robotic super-soldiers called mechas, which are piloted by a group of elite soldiers.
Makoto Fujimoto's parents were two of these pilots. After their deaths in battle in 1984, Mac's sole focus in life has been training to become a mecha pilot himself so he can carry on their legacy, but as the entrance exam nears, he quickly learns he doesn't have what it takes after all. His only chance is to join the civilian mecha security force and show his skill in battle. But with tensions rising between Nazi Germany, the USJ, and terrorist actors, Mac soon realizes that simply surviving will be the real challenge.
Watching Mac's perilous journey is even more interesting when you remember that this kid is no Chosen One. He's just an 18-year-old with a dream and the drive to train harder than the rest. He has realistic habits and faults, even getting tempted to cheat on his exam when he knows the chips are stacked against him. His hard work is what gets him transferred from the Rapid Mobile Defense Team to Berkeley Military Academy, and his skills are clearly shown through Tieryas's detailed accounts of each sparring match. If you're looking for action-packed combat scenes, this book is full of them.
However, it's the compelling political landscape that best captivates the reader in this novel. American and Japanese cultures are inextricably linked in the USJ, and while this connection is funny on a mundane level – the strange fusion foods mentioned could fill a cookbook – it's unsettling on a societal level, when men in Nazi uniforms walk the streets, and the National Revolutionaries of America use the names of Founding Fathers to justify terror. Mac's friend Griselda, a woman of mixed German and Japanese descent, is a perfect example of this discomfort, as she doesn't quite fit the mold in either Germany or the USJ. Her involvement with biomechs, and the dealings of Mac's other friend Hideki with NARA, sets up a simmering political conflict for Tieryas to explore. Mecha Samurai Empire creates a fascinating world in which mecha action is just one small, incredibly cool, piece of the puzzle.
Mecha Samurai Empire and its companion novel, United States of Japan, are both available now.
A copy of this book was provided by the publisher, Penguin Random House, for review.