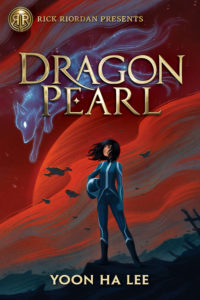 Min, a 13-year-old fox spirit who – like the rest of her family – usually takes human form, dreams of joining the Space Forces like her older brother, Jun. Together, they hope to see all of the Thousand Worlds and to find a way to help their own planet, Jinju. But when a special investigator arrives at Min's home and informs her family that Jun has deserted, Min knows that something is terribly wrong. She knows Jun would never do something like that, and when there seem to be no other options, Min decides to find out what happened for herself. Using the shape-changing abilities and compelling Charm that are part of her fox magic, Min sets out to find both her brother and the legendary Dragon Pearl, whose terraforming powers might be enough to save Jinju.
This is the second novel we've reviewed from the Rick Riordan Presents imprint (check out our review of The Storm Runner, by J.C. Cervantes, here), and the quality of the books published under it continues to be high. The mission of the imprint is to promote authors from underrepresented backgrounds and cultures writing middle-grade stories inspired by their own mythologies and folklore, and the excellent books like Dragon Pearl resulting from this imperative are just that much more evidence that publishers should have been doing that all along.
In case it's not already evident, I was completely captivated by Dragon Pearl. I have been meaning to read author Yoon Ha Lee's science fiction trilogy for adults, Machineries of Empire, for a while now, and reading Dragon Pearl convinced me that I need to move it up my TBR pile even faster. Though Dragon Pearl will appeal to young fans of Percy Jackson and other mythology-inspired tales, it is also a really fantastic offering for kids who love science fiction.
Though the words "magic" and "science fiction" are considered by some readers to be antonyms, you wouldn't know it from reading Lee's works, which manage to combine the best of both worlds in Dragon Pearl. In addition to her fox-magic powers, Min also encounters ghosts and other supernaturals like dragons, tigers, and goblins on her adventures; she also gets the chance to utilize her special knack for engineering on her space ship's engines – which, by the way, are kept running not only through mechanical means but also by tricky maintenance of gi, the vital life force that keeps everything in balance.
At the end of Dragon Pearl, there's every indication that there are more adventures in store for Min, and I, for one, can't wait to read them!
A copy of this book was provided by the publisher, Disney Hyperion, for review.