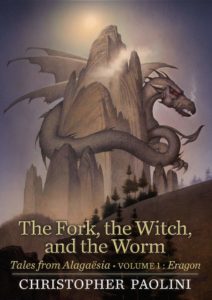 Fans of Christopher Paolini's Inheritance Cycle got the chance to return to Alagaësia last month when the author published The Fork, the Witch, and the Worm, a collection of three short stories following Eragon and Saphira. Like other fans, we had been itching to return to Paolini's world ever since the publication of Inheritance in 2011, so we were thrilled not only to learn about the new book but also to get the chance to ask Christopher some questions about his return to Eragon's world, his career, and what other projects are on the horizon for the author. Read on to find out what we learned!
How does it feel to return to Alagaësia after several years? When did you know you had more related stories that you wanted to tell?
Writing about Eragon and Saphira after so many years was like returning home after a long journey. It was a real treat getting to dip back into the heads of characters from The Inheritance Cycle, as well as a few new ones. I'd always imagined returning to Alagaësia with a full-sized novel, but over the years I've had numerous ideas for short and mid-length stories. Like so many readers, I often find myself wondering, "Hey, what happened to so-and-so?" Or "Hmm, what would happen if x, y, z?" The Fork, the Witch, and the Worm was the result of that daydreaming.
You famously published Eragon when you were just 19. What has it been like to live with this world for so many years? Has your relationship with your characters and world-building changed over time?
Actually, the self-published version of Eragon was released when I was 17. So, yeah, it's been with me for a long time. . . . It's hard to imagine a life without these books. They've shaped so much of who I am and what I've done. As for how my relationship to the characters has changed, I'd say that I have a much more nuanced view these days. Age brings experience, and experience gives one a broader perspective. There's no way I could have written the stories in this current book even ten years ago. Mainly, I think I'm more sympathetic to points of view not my own.
World-building is as important as ever. In fact, I'm more of a stickler for internal consistency than I was back at 17. No matter what you're writing about, whether it's fantasy or not, you can't go around breaking the rules of your fictional world. That's the fastest way to lose the trust of your readers.
On a related note, the landscape of opportunities for aspiring young writers has changed a lot since the early 2000s, when Eragon was published. Do you think your career trajectory would be different today, given the contemporary publishing landscape? 
My career would definitely be different today. The biggest change since I started has been the proliferation of fan fiction and e-books. When I was writing Eragon, there were no iPads, iPhones, Kindles, Nooks, etc. If you wanted to self-publish, it was a much more involved and expensive process. And since the internet was still developing, fan communities were far less connected than they are now. Even since Inheritance was published, in 2011, there's been a massive change in how people interact via social media.
Aspiring writers should take heart: It's easier to get published now than at any other time in history. Of course, with so many pieces of fiction available for readers to enjoy, it becomes increasingly difficult for authors to find a large audience. Promotion has always been difficult, though. The best thing you can do is concentrate upon writing the best story you can. Everything else is secondary.
Do you have any other projects – Alagaësia-related or not – in the works?
I've been hard at work on a massive science fiction novel full of spaceships, aliens, lasers, and. . . tentacles. The current draft should be finished within the next couple of months, which I'm very excited about. I've also dabbled with a number of short stories, a screenplay, and a few other projects that aren't yet ready to see the light of day. Some of these are set in Alagaësia, others in my sci-fi world, and yet others in completely different settings.
What are some of your favorite books you've read recently?
Alas, because of deadlines I haven't done a whole lot of reading recently. However, last year I did enjoy Ash Princess, by Laura Sebastian. It's a great YA fantasy with interesting world-building and a really well-written main character. Two thumbs up.
More recently, I enjoyed Kings of the Wyld, by Nicholas Eames. It's set in a world where mercenary bands are treated like rock groups. Pretty funny stuff. The book is gritty without being grim, and it has a good heart at its center.
Do you identify with any of the four Hogwarts Houses? If so, which one, and why?
Hufflepuff, of course! First of all, the house values "hard work, dedication, patience, loyalty, and fair play" are exactly the sorts of values we ought to prioritize in our lives and in society. Second, it has a great name. Third, its emblematic animal is a badger, and having grown up around badgers, I can tell you that they're tough, fierce, and able to take on opponents many times their own size. Plus, they dig really cool burrows.
So definitely Hufflepuff for me. (Those Gryffindor students really cause more trouble than they're worth.)
***
Thanks so much to Christopher for answering our questions!
The Fork, the Witch, and the Worm is available now. Plus, lucky fans have the chance to meet Christopher on his book tour, which begins tomorrow in New York City! Check out the schedule below to see if he'll be stopping at a city near you.
Part One: January 23–January 27
Tour Launch! Wednesday, January 23 at 7:00 p.m. ET
Barnes & Noble, Union Square
Talk, Q&A, Signing
33 East 17th Street
New York, NY 10003
Phone: (212) 253-0810
Event Page
Facebook Event
Thursday, January 24 at 6:00 p.m. ET
Barnes & Noble
Talk, Q&A, Signing
12193 Fair Lakes Promenade Drive
Fairfax, VA 22033
Phone: (703) 278-0300
Event Page
Facebook Event
Friday, January 25 at 7:00 p.m. CT
Anderson's Bookshop
Talk, Q&A, Signing
123 W Jefferson Ave, Naperville, IL 60540
Phone: (630) 355-2665
Event Page
Facebook Event
Saturday, January 26 at 7:00 p.m. ET
Decatur Library
Hosted by Little Shop of Stories
Talk, Q&A, Signing
215 Sycamore Street
Decatur, GA 30030
Phone: (404) 373-6300
Facebook Event
Sunday, January 27 at 5:00 p.m. ET
Books & Books
Talk, Q&A, Signing
265 Aragon Ave
Coral Gables, FL 33134
Phone: (305) 442-4408
Event Page
Part Two: February 24–March 1
Sunday, February 24 at 3:00 p.m. PT
Barnes & Noble, The Grove
Talk, Q&A, Signing
189 The Grove Dr
Los Angeles, CA 90036
Phone: (323) 525-0270
Event Page
Facebook Event
Monday, February 25 at 7:00 p.m. PT
Books Inc.
Talk, Q&A, Signing
855 El Camino Real # 74
Palo Alto, CA 94301
Phone: (650) 321-0600
Event Page
Facebook Event
Tuesday, February 26 at 7:00 p.m. MT
Changing Hands
Talk, Q&A, Signing
6428 S McClintock Dr.
Tempe, AZ 85283
Phone: (480) 730-0205
Event Page
Facebook Event
Thursday, February 28 at 7:00 p.m. CT
Austin's Central Library
Hosted by BookPeople
Talk, Q&A, Signing
710 W Cesar Chavez St.
Austin, TX 78701
Phone: (512) 472-4288
Event Page
Friday, March 1 at 6:30 p.m. CT
The Ensworth School
Hosted by Parnassus Books
Talk, Q&A, Signing
211 Ensworth Ave
Nashville, TN 37205
Phone: (615) 953-2243
Event Page
Facebook Event