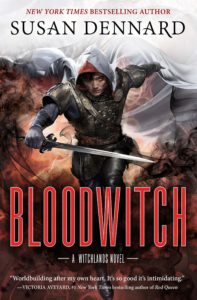 At long last, Bloodwitch, by Susan Dennard, is almost here! And Witchlanders can rejoice because this third installment in the Witchlands series brings all the magic and excitement we've been hoping for!
For those of you who may be unfamiliar with the story thus far, Truthwitch brings us the first book in this young adult high fantasy series about two young girls, Safiya and Iseult, trying to make a life for themselves in a turbulent world full of elemental witcheries that rule the lands. With high prices on Safi and Iseult's own highly coveted magic, their journey is far from easy as they battle enemies near and far to stay alive while forging tenuous alliances in between. Full of romance, magic, adventure, and plenty of well-written diversity, it's a wonderful addition to the pantheon of YA fantasy greats!
And now, Bloodwitch is here to explore the troublesome backstory of fan-favorite Aeduan, whose witchery allows him to track blood scents across great distances. And his story does not disappoint in the slightest! In fact, it's perhaps the greatest strength of Bloodwitch by far.
While the focus is definitely on Aeduan (or Baeduan, as Witchlanders prefer to call their illustrious anti-hero) throughout most of the book, the multi-POV setup dives deep into every single character. I think this is definitely Dennard's best dose of storytelling yet. Every character feels vital to the story. Every character feels like a close friend you don't want to see take the hits. The relationships between them are by this point so complex and well developed that by book's end, we're left with the most satisfying emotional payoff we've gotten from the books yet. For me, the strength of this series has always been that the friendships and romantic tensions have always been close to the heart of the story, bringing extremely well-developed character arcs with them, and I definitely found that to be true in full force in this installment.
And that's not to even mention the plot itself. This book was INTENSE. There was action at every single turn; I had a hard time putting the book down for anything because I was too scared to set my darling children aside for fear they'd be injured without me. And that's the extra bonus I found with Bloodwitch: Unlike its predecessors, this book's stakes are much higher and much more dramatic. It's no longer a simple matter of Safi and Iseult trying to find a safe city to settle in. It's now about the fate of the Witchlands and magic itself, and everyone is at risk. My heart was pounding the entire way through watching them try to survive each of Dennard's new plot twists unscathed!
The plot twists themselves are my single word of caution going into Bloodwitch. It is absolutely – and I cannot stress this enough – imperative that you pick up the companion novel to the series, Sightwitch, before reading this book. Though marketed as a prequel, Sightwitch is best read after the second book in the series, Windwitch, and without consuming it first, I think readers will struggle to keep up with the extremely dense amount of information we're given in Bloodwitch. So definitely don't miss out!
And don't beat yourself up too much if you find yourself unable to keep up with every piece of delicious foreshadowing Dennard drops into the book. There's plenty to enjoy on a surface-level read alone during an initial read without trying to solve the many riddles of this series straight off the bat.
I honestly cannot praise the Witchlands series enough. Bloodwitch was one of the most satisfying sequels I've read in years, full of heart and magic that the reader in me constantly craves. Whether you're looking for strong female friendships to root for, romance that will have you swooning, or simply the high-stakes, action-packed story Potter fans adore, Bloodwitch will not disappoint!
A copy of this book was provided by the publisher, Tor Teen, for review.
BONUS GIVEAWAY:
Has our review convinced you that you MUST read the Witchlands series immediately? You're in luck – we're offering you the chance to WIN a full set of the books, including a preorder of Bloodwitch. Just use the Rafflecopter below to enter (US residents only)!