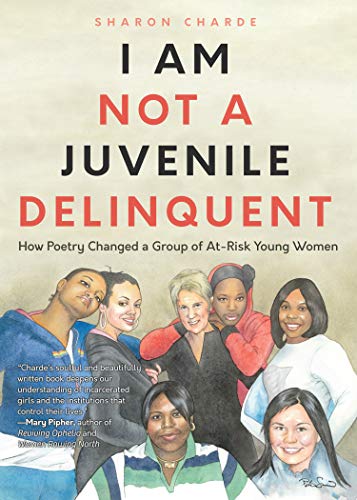 After her son's tragic and sudden passing, poet and family therapist Sharon Charde struggled to see herself as anything but "the mother of a dead son." Her search for healing inspired her to begin a writing program at Touchstone, a Residential Treatment Center (RTC) for teenage girls. I Am Not a Juvenile Delinquent: How Poetry Changed a Group of At-Risk Young Women weaves together Charde's story of grief with her volunteer work at Touchstone and includes a selection of powerful poems from "her girls."
The highlight of this book is the poetry excerpts. Charde's writing group successfully cultivated an environment where these young women felt safe to speak honestly about their lives. They write about love, their harrowing personal trauma, the criminal acts that led them to Touchstone, and their dreams for their future. These poems are raw and uncensored, and for this reason, some of the book's content can be triggering for a variety of audiences. Their words moved me to tears on more than one occasion while reading this book.
Through Charde's years of personal connections as a psychotherapist and poet, she provided multiple channels for these girls to have their writing heard. The girls read their poems at events, perform on the radio, and are even published in a chapbook, also titled I Am Not a Juvenile Delinquent. There is important work done here. Voices of youth considered "juvenile delinquents" often get lost in the system. So early in their lives, they are defined by their charges or behavior patterns, some of which are clear cries for clinical support, reinforced by years of neglect and sometimes sexual or physical abuse.
As I Am Not a Juvenile Delinquent gave a voice to these young women's stories, I became protective of them. I work in social work and therapeutic programming, and so I was immediately drawn to the concept of giving a voice to "troubled youth" through poetry. However, some of Charde's musings about the youth she worked with left me struggling to fully trust her intentions.
I felt that Charde's story, while titled I Am Not a Juvenile Delinquent, reinforced stereotypes of youth who are facing criminal charges. The book's ending cemented this feeling for me when Charde details why she decided to end the writing group. Her writing is not judgment-free toward the students who were unable to succeed in her writing program due to behavioral concerns. The way she writes about her white students emphasizes their innocence, while her students of color are criticized for their appearance and attitudes. I felt an attitude of a white savior complex from Charde consistently throughout the book. Charde seems to lose hope in these girls when they do not meet her expectations.
To Charde's credit, working with teenagers in the system who face criminal charges or have significant mental health concerns is not a stress-free choice. Charde is candid with her struggles and frustrations with Touchstone, which read to me like many other RTCs – understaffed, undersupported by the administration, and constantly in crisis management. While Charde's efforts at Touchstone clearly made a positive impact on some of the girls in her writing group, I hoped for a more compassionate attitude toward their behaviors throughout the story.
A copy of this book was provided by the publisher, Mango Media, for review. 
Buy on Bookshop.org
Buy on Amazon