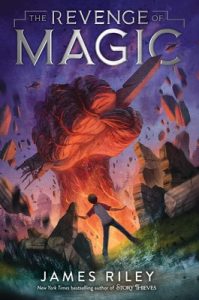 Thirteen years ago, five books were uncovered in five different sites around the world. These books appeared clutched in the skeletal hands of dragon riders and contained secrets that could only be read by children born after the day the books were found. These children are the only ones with the power to decipher the spells within the books and use magic.
Fort Fitzgerald has no interest in magic. That is, until a huge, definitely magical creature attacks Washington, DC, killing Fort's father and leaving him orphaned. The chance for revenge comes six months later in the form of Dr. Oppenheimer, a government agent who invites Fort to come study at his school of magic. Once he's there, however, Fort begins to realize that not everything at his new school is what it seems. With disastrous monster attacks coming more and more frequently, it's up to Fort to solve the mystery and find out what the books of magic really contain.
James Riley's The Revenge of Magic sets up a compelling story, asking what would happen if the modern American government was in control of a new, volatile power that only teenagers could use. The answer comes in the form of a twisted story full of secrets and lies for our plucky protagonist to uncover. Fort is headstrong, ambitious, and just clever enough to stay one step ahead of the grown-ups trying to stop him. His friends – confident, talented Rachel; studious healer Jia; and quirky clairvoyant Cyrus – make up a fun ensemble of kids that might just have what it takes to master magic and stop the attacks.
Riley builds a fascinating world with a scientific understanding of magic, treating it as less of a solution to all problems and more a tool to be handled with care and studied carefully. The kids go from studying spells out of books to delving into ancient lore that only gets more convoluted and exciting. Interspersed within the novel are mysterious flashbacks from an expelled student that only add to the twisted narrative, weaving a story that practically begs for a sequel. Luckily, this is only the first in the series, so Fort's adventures don't end here.
Young readers and lovers of Harry Potter or the Splurch Academy series are sure to enjoy this riveting tale of magic, secrets, and monsters under the earth. The Revenge of Magic, by James Riley, officially hits bookstores on March 5, so be sure to grab your copy!