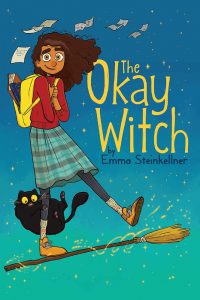 Moth has never quite "fit" in her hometown of Founder's Bluff, and the strange events that seem to follow her on her 13th Halloween aren't making it any easier. Luckily, Moth's mother may know what's going on – as it turns out, Moth comes from a family of witches, even if Moth's mother gave up magic a long time ago. But if her mother won't help her learn magic, Moth will just have to explore her powers herself… although she may dredge up some surprising (and unwelcome) history along the way.
Between Molly Knox Ostertag's The Witch Boy and Emma Steinkellner's The Okay Witch, this is clearly the season of witch-focused graphic novels with progressive undertones – and I am here for it. I totally adored this graphic novel, which interrogates assumptions about how history is remembered and whom we choose to honor through Moth's magical coming of age.
It's not just that Moth is descended from witches – her mother was actually present at the very beginning of Founder's Bluff in the 1600s, magically preserved for centuries in a pocket out of time, when some Salem-like persecution starts to go down. This clever innovation allows the story to go in some interesting directions, as Moth, her mother, and her witch-leader grandmother come to terms with their differences. If I weren't already enamored by Moth and company, stories about relationships between daughters and their single mothers are sure to get me every time.
I also really appreciated Steinkellner's artistic style, which can encompass both goofy antics and breathtaking scenes of magic. (And a cute, fluffy cat sidekick never hurt anyone, either.) I haven't heard if Steinkellner plans a sequel to The Okay Witch, but I, for one, would be thrilled to read about Moth's future adventures.
A copy of this book was provided by the publisher, Simon & Schuster, for review.