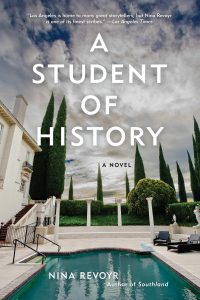 Rick Nagano is a Ph.D. student in history at USC, struggling to gain back the momentum he needs to finish his dissertation – let alone keep paying his rent on a graduate student stipend. So when an unusual job opportunity pops up to transcribe the journals of Mrs. W–, a vastly rich matriarch from one of LA's oldest families, Rick jumps at the chance. Soon enough, he's not only delving into the very private history of the W– family, but also attending high-society soirées and charity functions, rubbing shoulders with the wealthiest people in the city. It's not long before he becomes completely captivated by Fiona Harrington, a beautiful woman who urges him to look more closely into the W– family's dark past.
I found A Student of History to be a fun, breezy read (even if reading about a graduate student who can't finish his dissertation turns out not to be the best way to be distracted from finishing a dissertation of one's own). Author Nina Revoyr's style is immediately accessible, and I really enjoyed the visions of wealthy LA she conjured in her storytelling. The cover copy draws comparisons to F. Scott Fitzgerald's The Great Gatsby, and there is definitely something reminiscent of Nick Carraway in the way Rick cautiously inserts himself into a world of extreme wealth, privilege, and whiteness.
The only place the novel fails for me is in explaining Rick's infatuation with Fiona, resulting in my being a bit exasperated whenever he capitulated to her whims. Other elements of Revoyr's narrative were much more compelling to me, and I found myself wishing we could spend more time with Mrs. W– or even Rick's former partner, Chloe. Ultimately, I was left with the feeling that maybe Rick couldn't finish his dissertation because he just wasn't that smart – at least when it came to identifying people's true motives.
Still, this is a pulpy, entertaining mystery. If the premise grabs you, I recommend giving it a read.
A copy of this book was provided by the publisher, Akashic, for review.