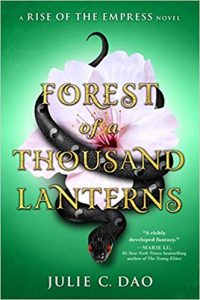 When you read a great story, it is always difficult to write a review about it because nothing seems to give justice to the author. For some reason, it also seems harder to avoid sharing some spoilers. This is the case with Forest of a Thousand Lanterns, a mythical and dark story about a young peasant girl named Xifeng, who is said to be destined for greatness and to become the Empress of Feng Lu, but only if she lets herself be consumed by the dark power growing within her.
What I loved the most about this book is that it is both beautiful and painful. Xifeng is a mistreated orphan who has only known hardship and abuse from her cruel Aunt Guma, and her journey and transformation can only be described as the emotional roller coaster of a girl whose only wish is to prove herself to the world and become someone of outstanding importance. Her monologues are a constant internal attempt to convince herself that she was born to be more than her circumstances.
The magic, fantasy, and mythical aura of the story only complement and improve an already great story of a girl willing to do anything to achieve her goal, even if that means sacrificing her own happiness.
The intensity of the story sometimes made me forget that the main character is still 18 years old. As a result, some actions and attitudes taken by Xifeng struck me as irrational, but I have to accept that every novel needs its dose of drama.
The writing style of the author is brilliant, and I simply loved how she developed this mythical world and still made it feel so real. The book engaged me completely and succeeded in making me want to read its sequel.
A copy of this book was provided by the publisher for review.