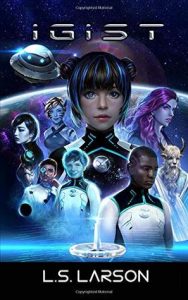 IGIST, by L.S. Larson, is about a future in which space travel is possible. The main character, Emi, is a 14-year-old girl from Earth who dreams of attending one of the prestigious space schools, specifically the Intergalactic Institute of Science and Technology (IGIST). Emi will do pretty much whatever it takes to get there and to be the best, which includes making some super questionable choices and taking a very long time to learn that you can't do everything yourself.
I received a print copy of the novel and downloaded the app that accompanies it. The app is available now on iOS and will be available for Android soon.
The app actually contains the entire book for you to read, and while you read, little notes pop up and you earn points for getting to different sections or finishing a chapter, which is pretty cool.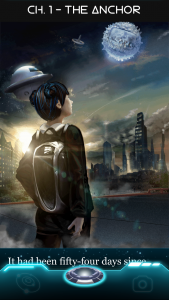 I wanted to read the print copy, but I still got to use the app to interact with the book. When you get to an image at the start of a chapter, you can open the photo section of the app and it will make the book's black-and-white images appear on the phone in color.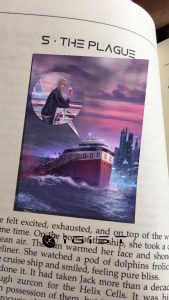 I found the app to be the most exciting and interesting part of this experience. The book was not particularly well written, and Emi was a pretty unbelievable character. She never sounded or acted like a 14-year-old, and her constantly choosing to do everything by herself with absolutely zero repercussions or lessons was very frustrating.
Emi's best friend is a girl originally named Jack who later goes by Jilli (she is called both names throughout the book but always with female pronouns – confusingly, it's made clear later on that her surgery plays a role in what she is called by others, but it's never addressed by her). Jilli is a Misfit, someone who wants to "transition permanently to a form other than strictly human, most commonly an animal and human combination."
Obviously, Jilli is meant to be a parallel for today's trans people, but the way that her story played out was extremely problematic. I don't want to delve into spoilers, but I just can't imagine any trans youth reading this uplifting vision of the future and being encouraged by the way Jilli is hunted down, abused, and ostracized, not to mention the way her story ends.
Ultimately, I love the possibilities this book brings, and I hope to see more books that include the use of an app. The IGIST app is fun and colorful and gives readers the entire story for free, which is an amazing way to bring books to everyone. You can download IGIST on iOS devices now and Android devices soon! Check out the book and app's website here.
A copy of IGIST was provided by the publisher for review.