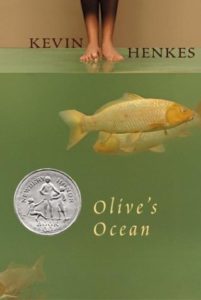 Martha Boyle's life changes when a strange woman hands her a piece of paper and thanks her for being nice to her daughter. The paper turns out to be a page torn from the diary of another girl, Olive Barstow, a quiet girl from Martha's school who was killed by a car while riding her bike. According to Olive's diary, the dead girl hoped she and Martha would become best friends.
Martha holds on to this diary entry as her family goes down to the seashore for a summer holiday. It affects the way she thinks about herself. How do you show friendship to someone who is already gone? How do you keep it together when your family seems to be pulling itself to pieces?
Martha's beach vacation is a pivot-point of discovery and growth for her. She decides she wants to be a writer, like – or maybe unlike – her father. She suffers the first pangs of love and the even harsher agony of betrayal and humiliation. She explores her relationship with a grandmother whose mortality is suddenly bitterly real to her. She finds out whether she and her brother can continue to be friends. And she figures out how to let go of someone whose loss she never expected to feel so deeply.
This 2004 Newbery Honor book comes from the author-illustrator of the Caldecott Medal picture book Kitten's First Full Moon. If you are touched, as I was, by its lean, profound simplicity, you may also be interested in discovering some of Kevin Henkes's other books, such as Two Under Par, The Zebra Wall, Bird Lake Moon, The Birthday Room, and Protecting Marie.
Interested? Buy a copy here.