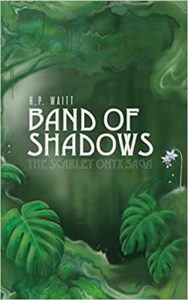 Band of Shadows, by H.P. Waitt, is the first book in The Scarlet Onyx Saga. The novel's heroine is Scarlet, a teenage girl who has been in the foster system for years. She is happy enough with her best friend, Jensen, and her foster family, but she can't help feeling like she is missing something. When she stumbles upon a real-life version of the door she keeps seeing in her dreams, Scarlet finds herself transported to a world she never knew existed – Avalon, home of the Fayes. There, Scarlet meets the mysterious and powerful Morgana and learns secrets about herself that she never knew or could have guessed.
Simply put, if you like Harry Potter, you will probably like Band of Shadows. Scarlet has a lot in common with Harry. They're both orphans who are brought to a magical place they didn't know existed and then find out that everyone there knows about their parents (in Harry's case, he is also famous, but Scarlet is just one of many kids whose parents were killed in a recent war). Like Harry, Scarlet also makes a small group of friends. There's Lena, who can teleport, Ryker, who can heal, and Stiles, who can change his appearance at will.
Oh, did I forget to mention that they all have powers? Part of learning who she is for Scarlet is tapping into the powers she didn't know she had, some that are hereditary and one that is unique to her. But don't get concerned that the book is just one long training montage. Waitt keeps the plot moving forward and intersperses the training sequences and the looming threat of the Band of Shadows with a few Quidditch-like moments of the group of friends solving riddles in order to win a competition.
Since this is the first book, there are several questions left unanswered. A big reveal comes at the end that feels somewhat forced and also a little too confusing. The history of the war that the Fayes are involved in is a little muddied. It also feels like the plot moves a tad too briskly at some points. Time passes very quickly, and Scarlet seems to have forgotten about the people she has left behind (I briefly thought Waitt had forgotten too, but she hadn't) and Scarlet learns quite a few things about the world "off-page," so when they're later mentioned to the reader, it takes a second to catch up.
Also, don't get too excited if you're a fan of Arthurian legend – the names Morgana and Avalon are the only things Arthurian about this book, but this might change as the saga progresses.
Overall, Waitt has crafted a great first novel that teaches readers about accepting your gifts and your shortcomings, trusting your friends, and never giving up on what you think is right. Also, she skillfully avoids placing Scarlet in any romantic entanglements, choosing instead to focus on friendship and Scarlet's getting to know herself and her new world. I can't wait to read the second book and learn more about this world Waitt has created.
A copy of Band of Shadows was provided by the publisher, Spilled Ink, for review.