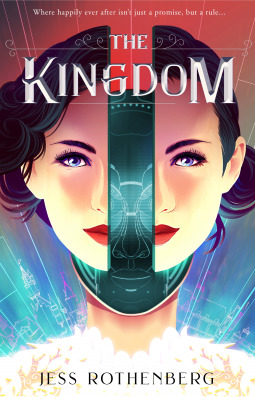 The year is 2096, and the place is The Kingdom: a theme park that allows guests to escape the toils of the real world, see animals that have long been extinct (like the narwhal and polar bear), and meet the seven Fantasists, princesses who are perfect in every way… because they were engineered to be so. The heroine of Jess Rothenberg's The Kingdom is one of these princesses, Ana, a robot Fantasist designed to please everyone she comes in contact with and make their dreams come true. The problem is that she's been accused of murdering one of The Kingdom's human staff, Owen, a boy who takes care of the hybrid animal species.
The book flashes back and forth between Ana's trial transcript, post-trial interview, and her actual story in real time, so the reader gets a sense of what might happen next without the author giving away too much. The result is that the book feels like a puzzle you are trying to piece together. By the end, the pieces fit together nicely, but the journey is at times confusing.
Thematically, the book covers a range of issues, though some are explored more thoroughly than others. The question of what it means to be "human" is a large focus. This issue is explored through Ana's evolution as a character that is a literal evolution of a robot experiencing human feelings she once thought were impossible for her. There is also a strong critique of the expectation that women need to be perfect, need to please, and need to be happy about it. These themes were strongly developed throughout the novel.
What was disappointing was the handling of the sexual plot points of the book. Without giving away too much, I can say this issue did not come to a satisfying conclusion, or any conclusion at all, which was upsetting since it is a disturbing element and should have had a resolution. It seemed the author was trying to juggle too many hard-hitting issues for one story – climate change, animal rights, artificial intelligence, sexual abuse, etc. – so that something was bound to slip through the cracks.
Overall, this book felt like an introduction to a series. The novel's ending seems more like a beginning on a larger quest to improve The Kingdom's – and the world's – situation. I have found no indication that it is going to be a series, but I am interested in seeing what comes next. I recommend this book to fans of Disney (those who aren't afraid to critique it) and Westworld. It would be a very engaging read for teens, both plot-wise and thematically, but may lack in development for some readers.
A copy of this book was provided by the publisher, Henry Holt and Co., for review.