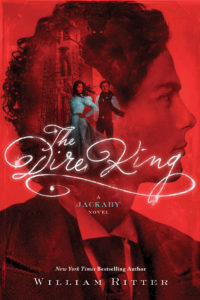 The Dire King is the fourth and final installment in William Ritter's Jackaby series, following hot on the heels of last year's Ghostly Echoes. The action picks up immediately from the conclusion of the third book: Jackaby and Abigail have discovered that danger from another realm lurks right in the heart of New Fiddleham. If they don't figure out what's going on – and fast – there won't be any worlds left to save.
The good thing about The Dire King picking right up from where Ghostly Echoes left off is that the action is up and running right off the bat. The seeds of plot for Jackaby's final adventure have been scattered throughout the previous three books, and all that's left for them to do is bloom into a fast-paced tour de force. All the old characters you would expect (and perhaps some you wouldn't!) are back to take their final bows, and it should be satisfying for fans to uncover what part each one has to play in preventing the end of the world.
All endings, of course, are bittersweet. The only downside to the quick pace of The Dire King is not realizing that you've already said goodbye to some of your favorite parts of the series in Ghostly Echoes. Pretty much everything in The Dire King is geared toward the action-packed finale, leaving less time for jokes and quirky investigating than in previous installments – there's barely time for one good Douglas quip before everything is off and running.
Still, the book more than makes up for those losses with emotional payoff for the series' central relationships: Jackaby and Jenny and Abigail and Charlie. Plus, it has my favorite kind of ending – the type where you imagine that the story is going on and on, just without you there to witness it. I always feel it's considerate for authors to let you fill in a bit of the ending on your own. Fans of the series will not be disappointed in its conclusion.
A copy of this book was provided by the publisher for review.