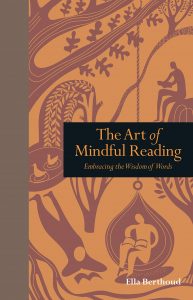 In The Art of Mindful Reading, bibliotherapist Ella Berthoud shares tips for how to use our reading to practice mindfulness and meditation, including how to work reading into a busy schedule and get the most out of every book we read.
I picked up this book because I was curious about what bibliotherapy really was – I had read an article about Berthoud in the New Yorker and wondered how she might treat the subject in a longer format. As it turns out, the type of bibliotherapy described in the article ("prescribing" specific books based on a patient's emotional needs) is different than the focus of this book, which is less about specific books and more about an individual's relationship to the reading they do. Both, of course, can be incorporated under the umbrella of bibliotherapy.
The book itself is really nicely produced, which is fitting since one of Berthoud's tips for engaging more mindfully with the books we read is to be more attentive to their physical properties. The paper is particularly smooth (perfect for annotating – another of Berthoud's tips) and emits an especially nice variety of new-book smell. It contains six chapters, beginning with helping readers identify what kind of reader they are (auditory, visual, or kinaesthetic) and ending with what to do once you've finished a book or want to cull your library. Mindfulness exercises are interspersed throughout, giving you a chance to practice the techniques she offers.
Regardless of if you decide to follow Berthoud's tips, The Art of Mindful Reading will prompt you to reflect on your own relationship with the reading you do, which can be a valuable exercise. Those who already read a great deal may not find that much to take away from Berthoud's advice; whether consciously or not, most people who love books and read them often develop their own habits and approach to reading. Those who want to read more, however, or rediscover a love for books that has recently lapsed, may well find some helpful tips here!
A copy of this book was provided by the publisher, Leaping Hare Press, for review.