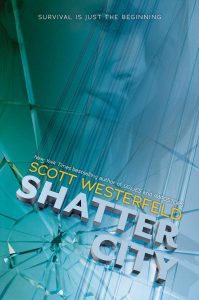 Shatter City is the second book in Scott Westerfeld's Impostors series. The series is a follow-up to Westerfeld's Uglies series, which was first published in 2005. If you haven't read the original series, don't panic. I read the Uglies series back when it was first released, and since that was almost 15 years ago, I barely remember what happened. If you're a huge fan of the original series, this series will have a few Easter eggs for you, but if you never read Uglies, you'll still adore Impostors.
Impostors is about Frey and Rafia, two identical twin sisters who are the daughters of the most powerful man in Shreve. Frey was raised to be her sister's body double – she's an amazing fighter and brilliant strategist. Frey takes Rafia's place when she might be in danger, but beyond that, Frey is no one. The world doesn't even know she exists.
That is, until the events of the first book. Impostors ends with the sisters exposing their reality to the world and switching places. Rafia escapes their father's home and ends up with the rebels, while Frey chooses to stay behind with her new ally and love, Col. This is where Shatter City begins.
Shatter City is a fitting sequel to Impostors, if not the most exciting one. Much of the book feels like a set-up for the third novel. The bulk of the novel takes place in a new city, Paz. In Paz, the citizens are altered with Feels, which are essentially buttons on their arms that can be pressed when they'd like to Feel. Frey finds herself outfitted with a set of Feels and the most interesting conflict in the novel is that between Frey and her Feels.
Otherwise, the city of Paz seems to just serve to further illustrate how evil Frey and Rafia's father is. Unfortunately, he only physically appears at the beginning of the book and is just a threat for the remainder of the story. It seems like he might be a more terrifying villain if he were a little more present, but it can't be argued that Frey really is the focus of the story. I was captivated by Frey's exploration with her Feels and her inner conflict as she learns more about her family. But as for the plot, I think the third book will do more to really move the story along.
If you enjoyed the Uglies series, you'll be captivated by this sequel series. Westerfeld effortlessly calls back to the original world he created while also building off it in a very natural way. I will read anything by Westerfeld (and have read everything), so I still enjoyed Shatter City, though it leaves me desperate for book number 3!
A copy of this book was provided by the publisher, Scholastic, for review.