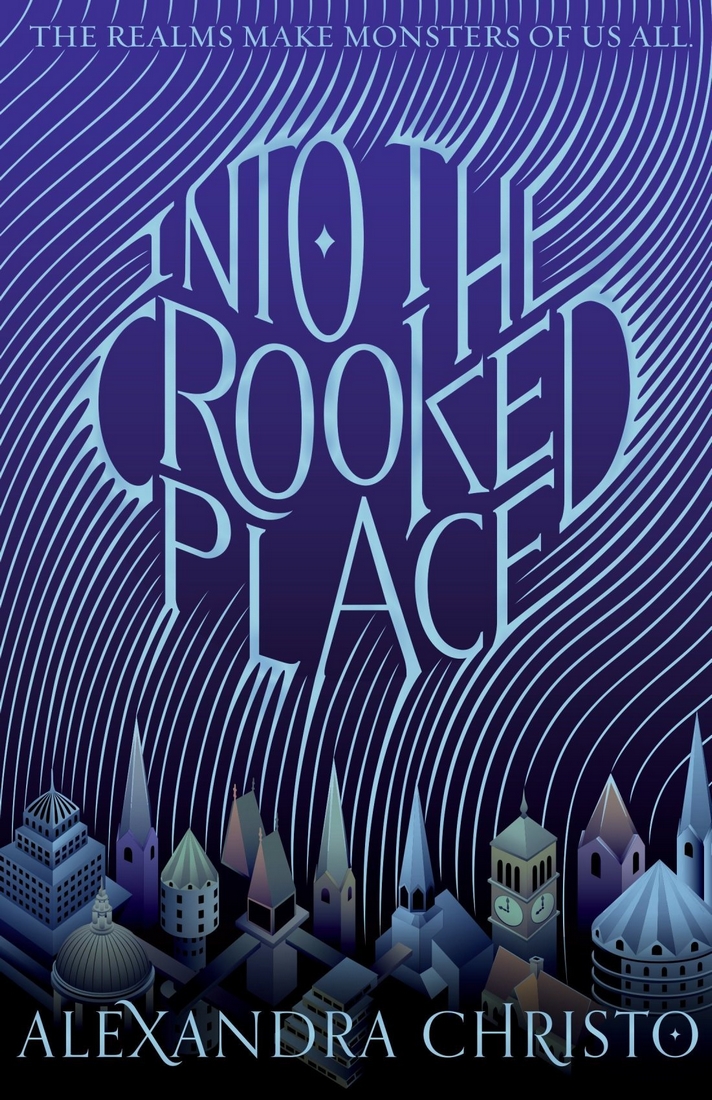 Back in April, I interviewed author Alexandra Christo about her first book, To Kill a Kingdom. She hinted that a new book she had written would be released soon, and I began counting the days. I jumped at the opportunity to review Into the Crooked Place ahead of its October 8 release date, and I am so excited that I can finally share my thoughts with you!
There is SO MUCH to like about Into the Crooked Place. Christo has done an amazing amount of worldbuilding with this book, creating magic and lore I have never heard of before. The way her characters use magic, the mythology of each of her characters within their backstories, and the timing with which these backstories are revealed – pure magic, pun intended!
I have no idea if this was her intention, but as I was reading her descriptions of the streets surrounding the Crook while the characters roamed the city of Creije, the city seemed to form an image in my mind of steampunk wonders and curiosities, which set my imagination on fire! The various towns and settings our characters visit throughout their journey from Creije and into the rest of the realms are also very different, with the author taking us from a bustling city into a peaceful countryside and on to magical forests and coastlines.
Focused on a group of four central characters, Into the Crooked Place is the first book in a duology that explores an all-new world where both light and dark magic exist but where most magic is against the law and must be bought and sold in secret, and where Crafters (those who in the past could create new magic and were captured so that their magic could be harnessed for evil) live in hiding after so many of them were killed in the War of Ages. For those who seek dark magic within the realms, there are the Kingpins, who, through their trusted underbosses, distribute tricks and illusions, along with some very dark magic indeed.
Former busker (magic dealer) Wesley Thornton Walcott is being groomed by the Kingpin of Creije, Dante Ashwood, to be the best (and youngest) underboss Creije has ever seen, but he hides a secret, even from one of his best buskers and former friend, Tavia Syn.
While Tavia is oblivious to Wesley's secret (and it's a good one, you guys!!!), she's focusing on getting out of the busking business by selling enough magic for Wesley to pay back her life debt so that she can leave Creije behind. When Saxony, a friend who works at the Crook for the underboss, has a reaction to the new magic Tavia is supposed to be moving, all hell breaks loose, and her plan to free herself from the Crook is left in shambles.
Saxony Akintola is perplexed by her reaction to Tavia's vial of magic, and it intensifies her reason for staying in Creije and working for Wesley. Oh, and let's not forget to mention that she's also full of secrets and she's completely in love with the underboss's bodyguard, Karam, which fully brings a beautifully complicated but well-written same-sex relationship to an already unique story. Saxony has so many different threads of loyalty pulling at her, with her family, friends, and romantic entanglement with Karam, that she just might be the most complex character in the whole book.
Karam Talwar, a warrior who was never meant to be a warrior, has her reasons for hiding out in Creije as the gatekeeper to Wesley's club and as his protection from any who would dare to rise up against him. Fighting in his rings nightly to prove she is a warrior of worth, Karam is doing all she can to honor her family, who fought and died in the War of Ages as part of the Rekhi d'Rihsni, whose sworn duty was to protect the Crafters. A side benefit of serving as Wesley's bodyguard just happens to be protecting Saxony as well, even though their relationship is on the outs when the book opens.
The group quickly finds themselves forced to work together to save not only Creije but all of the cities within the realms when they discover this new magic isn't at all what the Kingpin said it was.
I finished Into the Crooked Place in about three days and was nearly left with my jaw on the floor when it ended as abruptly as it did. Now I am wondering when on earth the next book is coming because I NEED TO KNOW WHAT HAPPENS!!!! How are we supposed to be patient and wait for a year or more for the next one to be released when the story was left like that? Alexandra Christo, you are a cruel, cruel author. And I love it!
Into the Crooked Place is available now for preorder and will be available everywhere for purchase on October 8. You can preorder here if you live in the UK, and you can also preorder a signed hardcover copy with stencil-sprayed edges starting September 14 at 1:00 p.m. BST as part of Fairyloot's Fairy Trove subscription. You can follow Alexandra Christo on Twitter, and you should because she's constantly dropping new information on special editions of the book, plus magical art from the series, which is featured inside of the book – take a look at this gorgeous map of Creije!
A copy of this book was provided by the publisher, Macmillan, for review.