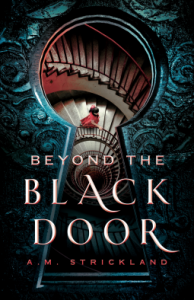 A.M. Strickland's Beyond the Black Door is set in a richly described world where a select few can walk the souls of others and discover their greatest secrets. Our lead, Kamai, is one of those few. But she is not like other soulwalkers. Not only is she unlicensed – and therefore a dead woman if the king discovers her abilities – but what is more, she can't find her own soul and an ominous black door follows her as she soulwalks.
One thing that really struck me was Strickland's ability to conjure up the most magical of imagery in front of your eyes. While reading her passages on what certain cities or souls looked like, I could forget I was even reading and saw the scenes unfold before me effortlessly. Her world also has great cultural depth, including wonderful creation myths and divinities, features that can make or break a truly good fantasy story.
Her characters deserve similar applause. Their motivations, allegiances, emotions, and identities are complex, and even Kamai's powers cannot always help her to navigate the path she finds herself on. The only characters I cannot say this of are Kamai's enemies. Their motivations are extremely murky and never seem to make genuine sense. In the end, they are relegated to being evil for evil's sake, which detracts from the complexity she has built elsewhere.
Where Strickland truly shines, however, is in the way she deals with contemporary issues in this novel. One of the great things about YA fantasy is its ability to provide commentary on the modern world, and she does not disappoint here. Beyond the Black Door excels in offering moral tales of self-acceptance, exploration of different sexualities, ways of loving, identities, corruption, and the idea that accepting help does not make you weak. This was the first YA fantasy I've read in which I was able to explore a sexuality different from my own through the main character, something that seems to be evolving in this genre and I can't wait to see more of.
The only aspect that gave me pause was the plot. At first, the way it was written had a very jarring effect. This is because there were three very disparate plotlines that weren't quite weaving together. Rest assured, however, that these do eventually meet in a spectacular watershed moment. There were some slightly predictable aspects that frustrated me but equally many twists and turns that I never saw coming to keep me feverishly turning the pages. I found I had many more questions from each chapter than answers, until the big reveal at the end. Speaking of the ending, it admittedly did feel a little deflating. Kamai is facing these huge mountains that seem impossible to overcome but the way she thwarts them presents itself very much like a deus ex machina.
Having said that, I found the journey with Kamai, Nikha, Razim, and the others to be extremely worth it. This is ultimately a wonderful story full of revenge, corruption, friendship, and acceptance. Strickland's ability to build convincing worlds and well-fleshed-out characters is genuinely amazing, and I would strongly recommend this really unique read.
A copy of this book was provided by the publisher, Macmillan, for review.