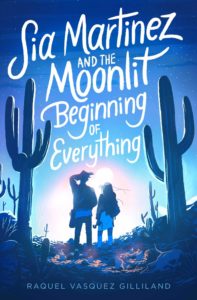 Sia Martinez's life changed forever when her mom was deported from the United States. Three years later, Sia's mom is supposedly dead somewhere in the desert after attempting to escape back to her family. Sia is now in high school and struggling to move on. Every new moon, Sia holds a vigil between two saguaros in the desert, lighting candles to guide her mother home. Her ritual brings her comfort, even though she knows her mom is probably gone forever. That is, until a spaceship crashes in the desert, carrying Sia's mother, who is very much alive.
I had no idea what to expect when I picked up Raquel Vasquez Gilliland's first novel, Sia and the Moonlit Beginning of Everything. I was pleasantly surprised and found I couldn't put down this beautiful book. It took me no time at all to devour this spellbinding YA story that transcends generations, time, space, borders, and genres.
As the story unfolds through Sia's eyes, it's hard not to fall in love with her. She is a character I would love to be best friends with: Sia loves gardening, herbalism, '70s fashion, and Fleetwood Mac. She's moody and snarky, yet Sia loves her friends and family with fierceness. Her character is revealed to readers through stories of her loved ones, whom I ended up loving right along with her.
One character I especially loved was Rose, Sia's best friend. MuggleNet readers will adore her constant Harry Potter references in the book. I particularly admire Rose for her favorite hobby: writing awesome, page-turning Drarry fan fictions. If you're an X-Files fan, you'll get a kick out of a lot of the story's humor as well. These characters jumped off the page for me. Each villain and hero was vibrant and nuanced. I particularly enjoyed the addition of Omar, an adorably awkward conspiracy-theory blogger who helps Sia crack the mystery of her mother's involvement with aliens.
Sia Martinez and the Moonlit Beginning of Everything touches on some realistic and heartbreaking issues that many Latinx Americans and people of color face today in the United States. Her story is relevant to the current social climate surrounding immigration and the hostilities many people face under the Trump administration. Casual microaggressions are aimed at Sia and her loved ones often throughout the book, and it all felt very believable. My heart broke over and over again for Sia, who keeps taking on abuse and hatred as she tries to process and grieve her mother. I admired Sia's capacity for love and trust in the face of prejudice.
Sia experiences a "coming of age" of sorts in this story. She unexpectedly finds herself smitten with the new kid at school, Noah. Sia faces an internal challenge as she slowly opens herself up to trusting new people in a town where people prove themselves untrustworthy. Sia must practice vulnerability as she heals from past relationships, which added to my admiration for this character. Within this storyline, there is a significant trigger for those who are victims of sexual assault. Unfortunately, Sia's story is relatable to many young women.
Even before the spaceship crash, magic and the supernatural play big roles in Sia's life. My favorite character was her ghost grandmother, who lovingly meddles in her grandaughter's life throughout the story. Sia carries on the traditions of her grandmother, who practiced Brujeria, or Latin American witchcraft. Mexican folklore shapes Sia's understanding of the world and captured my imagination. While this book is fantastically fictional with aliens, conspiracy theories, and cactuses that may actually be humans, there are real-life spiritual considerations sprinkled throughout. The magical realism in Sia Martinez felt more real to me than fictional. This book inspired me to believe in the little bits of magic all around me.
This book is packed with action and emotion and threads it all together with poetic prose that cut to my heart. Sia's story blew my expectations out of the water and was the most imaginative and gorgeously written YA novel I've read in a while. If you're enticed by romance, religion, alien abduction, witchcraft, Mexican tradition and folklore, or superpowers, look no further than Sia Martinez and the Moonlit Beginning of Everything, which hits the shelves on August 11, 2020.
For more information on the author, you can visit her website, www.raquelvasquezgilliland.com.
A copy of this book was provided by the publisher, Simon & Schuster Children's Publishing, for review.