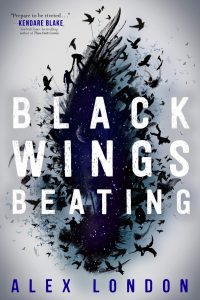 Black Wings Beating, by Alex London, is everything I never knew I needed in young adult fantasy. Sure, there's young love and complicated sibling rivalries and a hint of magic in the air. And then there're the killer birds of prey that dominate Uztari culture, and ooh boy, Imma need to take a breather at some point because things get INTENSE in a hurry!
Twins Kylee and Brysen tell this story through alternating viewpoints of their lives in the Six Villages, a society controlled by falconry. You either have birds of prey to help you survive, or you don't make it – not with a war on the horizon with people who hate the control of birds on every level. When an opportunity comes for Kylee to use her unique gift of speaking with birds to help her brother save his boyfriend from death, the pair set off to hunt for the Ghost Eagle, the most dangerous and valuable bird of all.
I found the magic system in the story completely unique and unlike anything I'd really encountered before. It's subtle. And I appreciated that aspect, that it didn't completely take over the story. Kylee has a skill few have, one that gives her a huge advantage, but it's clearly going to take a lot more than waving a wand to save the world. I'll be curious to see in subsequent books what the limitations of the Hollow Tongue – the ability to command birds using magic – are, if any, as that's not quite been explained yet.
The birds themselves are equally impressive. It's obvious from the get-go that Alex London either knows a lot about falconry or spent an excessive amount of time researching it for this book. There is such a wealth of information about birds in this book, and it blends seamlessly into the story. I never once felt overwhelmed or like I was being info-dumped by all the worldbuilding going on; it's so naturally woven into the writing.
But my favorite aspect, more than any other, to this book was the relationship between Kylee and Brysen. They've had a lot of tough times between them growing up, and yet they will go to the ends of the earth for each other. It's fascinating to see how they have different takes on each other in their separate points of view that ultimately show just how much they love each other. I really just want to see them happy and at peace, nicely settled when all is said and done.
And what's more, the representation is stellar. There are people of color everywhere, Brysen is an out and proud gay man (in a society that isn't automatically homophobic!! I mean!!), and while unconfirmed, it's very strongly suggested that Kylee is somewhere on the ace spectrum. Such a breath of fresh air in a YA book world that sorely needs more of this excellent rep!
The only question I have so far is what makes birds so valuable in the first place, as they don't seem to have any inherent magic or properties that make them unusually strong allies. But I'm very excited to see where Kylee and Brysen go next as they try to save their village, their friends, and each other.
A copy of this book was provided by the publisher, Macmillan, for review.