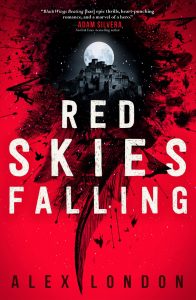 This! Sequel! Is! Everything!
Red Skies Falling, the second book in The Skybound Saga, by Alex London, is a thrilling follow-up that really takes the story to the next level. (Read our review of the first book, Black Wings Beating, here.) In this sequel, twins Kylee and Brysen find themselves torn apart for the first time in their lives, each on the brink of major decisions that could turn the tide of the war knocking down their front doors.
The separation of the twins is really critical to the worldbuilding in this one. With each going off in a different direction, London takes advantage of an opportunity to explore new people and places we had only caught glimpses of in the first book. And with that comes a whole new level of political intrigue that I didn't even realize was missing before. You want spies? Check! You want court intrigue? Check and check! You want assassin training and a human-sized Ghost Eagle that will mess you up and terrorize an entire city? CHECK.
It's amazing how this added layer turns the plot into a series of complex and constantly shifting puzzle pieces. Every time a plot element was introduced, I sort of rolled my eyes and shrugged like, eh, I know where this is going. WRONG. Wrong, wrong, wrong – I was so wrong every time! This story went a lot of places I wasn't expecting. The author takes some really creative leaps with how he develops the twins, especially Kylee, and it's hugely successful.
And just as was the case in Black Wings Beating, the representation continues to grow and shine. Not only does Brysen explore new queer love openly and without reproach, but Kylee also seems to grow more into her own asexuality without anyone caring or rejecting her for it. For once, you don't have to worry about what everyone else thinks just because you're not the "norm" in the world. Love is simply winning from the get-go.
The only drawback to this book for me is, ironically, the separation of Kylee and Brysen. While it definitely allows us to see more of the world and expand the story, I missed their relationship, the way they play off each other so viscerally. Thankfully, they both remain at the forefront of each other's thoughts, so the heart of the book isn't lost. But I so missed seeing them work together, butt heads, and kick ass against all odds, as those were my favorite elements of the first book.
A lot happens in this sequel, and after the way it ends, I'm already dying for the final installment. Why can't it be next year already?! But seriously folks, if sibling feels, queer rep for the win, and action-adventure are your jam, The Skybound Saga can't be beat.
A copy of this book was provided by the publisher, Macmillan, for review.