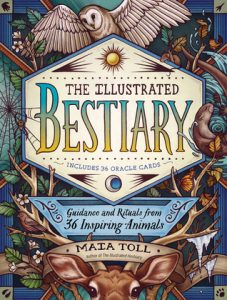 Maia Toll's The Illustrated Bestiary is a collection of animal-inspired personal reflections, gorgeous illustrations, and short rituals for spiritual growth. Part lore, part animal facts, and part personal-development guide, this book is a perfect modern-day rendition of the medieval conception of bestiaries. Although each entry in the book may address a few fun facts or provide a glimpse into traditional beliefs about each animal, Toll's writing really shines when discussing what life lessons a person can learn from these animals. She expounds upon these lessons by offering simple rituals and thought exercises inspired by each animal, intended to help the reader heal and grow in their personal life journey.
As a fan of Toll's first book, The Illustrated Herbiary, I had high expectations for the bestiary as well – and it doesn't disappoint. My first thought was repeated many times throughout reading as I turned each page: This book is visually stunning. The cover is highly illustrated and accented with brightly colored foil, so it shines like a jewel on any bookshelf (yes, even on shelves overstuffed with books of every size and color). The inside illustrations are, if anything, even more breathtaking. A full-page picture accompanies each animal entry, a preview of which can be found on the title page spread. While none of Kate O'Hara's artwork would have seemed out of place here, it's fitting that the Black Bear introduces the compilation. Black Bear's entry later in the book discusses the importance of being in tune with natural rhythms and connecting to practices that allow for personal growth – which is, in essence, a thematic concept for the book as a whole. O'Hara's imaginative rendering of Black Bear, with her almost-human eyes and a moon cycle "halo" reminiscent of those in Byzantine iconography or an Alphonse Mucha poster, is a striking introduction.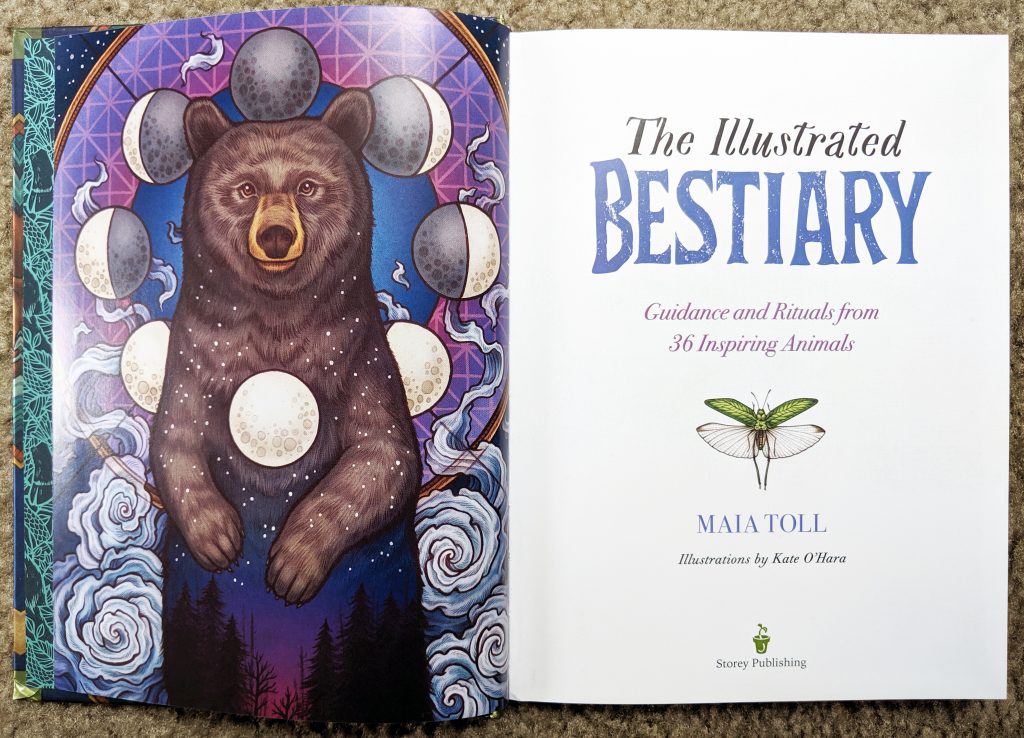 The other full-page illustrations are just as stirring. They're packed with small details and vibrant colors, so it's easy to get lost in gazing at the images. Smaller illustrations dot the other pages of text, adding beautiful embellishments to the animal entries and tying together each section's layout. But though the book is worth a read for the mesmerizing images alone, Toll's writing provides the soul that makes exploring this bestiary a truly unique experience.
The majority of the book's content consists of 36 animal entries, each with its own dedicated short chapter. The start of each entry features the aforementioned full-page illustrations of the animals facing a concise "description." I use the term loosely because this is no encyclopedia – you won't find a clinical observation of an animal's physical characteristics, behaviors, and habitats. A few of these features may be highlighted, but you're just as likely to get a brief glimpse into a traditional legend or the historical perceptions surrounding these creatures. Above all, each description centers on the guiding principles meant to inspire thought on how the animal relates to you and how you can develop as a human being by taking the animal's lessons to heart. Yet Toll's writing never comes off as preachy – only inspiring. Perhaps more impressively, her words paint pictures vivid enough to rival the illustrations on the facing pages.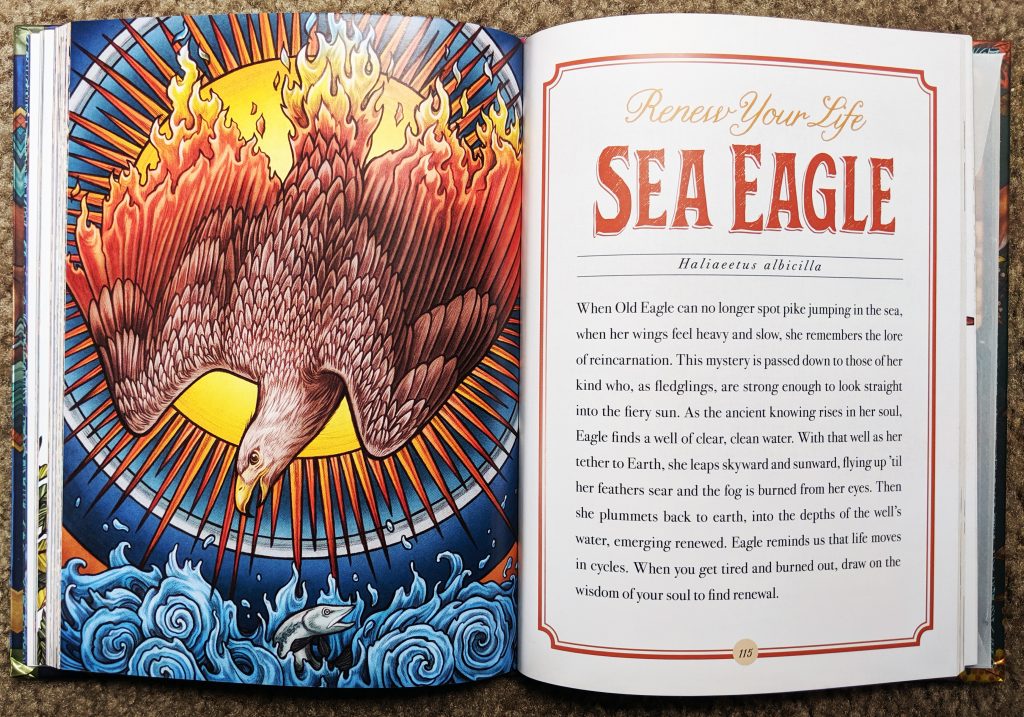 Also included in each chapter is one section outlining a simple ritual and another section dedicated to "reflections." Rituals vary in content, but if you're picturing a drawn-out ceremony or a formal set of instructions – don't. Toll's rituals include everything from simply sitting quietly for a few minutes and breathing to organizing your space to learning something about a hobby outside of your comfort zone. The reflections offer a few questions for consideration alongside those that may have been posed in the ritual section.
The book includes cards printed with the full-page illustrations, and the text concludes with a short chapter on how to use them as tools for further introspection. It's an interactive way to connect with the lessons in the book – and much safer than attending one of Hagrid's Care of Magical Creatures classes!
A copy of this book was provided by the publisher, Storey Publishing, for review.