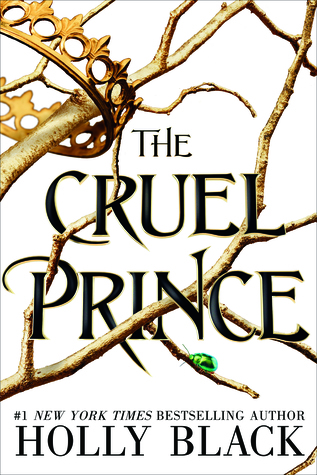 American young adult and child fantasy fiction author Holly Black takes readers, once again, to the dark and magical world of Faerieland in her newest novel, The Cruel Prince.
Of course I want to be like them. They're beautiful as blades forged in some divine fire. They will live forever.

And Cardan is even more beautiful than the rest. I hate him more than all the others. I hate him so much that sometimes when I look at him, I can hardly breathe.

Jude was seven years old when her parents were murdered and she and her two sisters were stolen away to live in the treacherous High Court of Faerie. Ten years later, Jude wants nothing more than to belong there, despite her mortality. But many of the fey despise humans. Especially Prince Cardan, the youngest and wickedest son of the High King.

To win a place at the Court, she must defy him—and face the consequences. In doing so, she becomes embroiled in palace intrigues and deceptions, discovering her own capacity for bloodshed. But as civil war threatens to drown the Courts of Faerie in violence, Jude will need to risk her life in a dangerous alliance to save her sisters, and Faerie itself.
After a prologue describing the violent and abrupt kidnapping, the story begins ten years later in Faerie. Jude and her sisters have been living in the home of a vicious, war-loving redcap, who took them in out of an obligation of honor. Due to their new father's status as the High King's general, the sisters have been granted the privilege to grow up alongside the other children of the High Court, including the six children of the High King who are in line for the throne. Even though ten years have passed, Vivienne, being the oldest when they were kidnapped, continues to long for the mortal world of her childhood. Jude and Taryn, however, having spent the majority of their lives in Faerie, have grown to love and embrace their new world and are trying to find their place in Faerie.
The first few chapters of the book start fairly slowly, adding necessary background context and summarizing Jude's life. Growing up as a human in Faerie is particularly challenging since most of the Folk dislike mortals. They are also highly susceptible to faerie magic and therefore very easy to trick and manipulate. The beginning of the story is centered on Jude's anxiously awaiting an upcoming tournament in which she hopes to declare her desire to be a knight of the High Court. The storyline is a bit scattered at the beginning as Jude's daily life starts to get peppered with events that don't appear to have a clear connection to one another. This makes it hard to tell where the story is headed but keeps the reader guessing and draws them in with a slowly building tension that is clearly leading up to something big.
Jude can be hard to relate to at times due to her repeated, rash decision-making and apparent desire to stir up trouble. Her personality is very similar to Harry Potter's in this way. They are both constantly acting before thinking and always feeling as if they need to be the ones to set things right. Jude constantly feuds with her twin, Taryn, who would rather Jude lie low and avoid conflict, especially when they end up on the receiving end of negative attention from a gang of their peers led by the youngest prince, Cardan. Jude's fiery nature can't be tamed though, and she continues to stand up to Cardan, who has a very Malfoy-esque personality with a reputation for being wicked and conceited. Jude constantly feels as if she needs to do the right thing, and you can't exactly fault her for that, but she sometimes takes it to extreme measures even though she knows it will only cause more trouble.
The book's direction starts to narrow in on the upcoming coronation of the next High King. The King may pass his crown down to any of his six children; however, his choice seems fairly clear from early on. When things don't go as smoothly as expected, Jude finds herself in the center of a situation that could change everything for Faerie. She is forced to make some unusual alliances as well as put all of her skills and wit to use in order to set things right again. We also find out that the "cruel prince" may not be exactly who we thought he was. The book becomes a real page-turner towards the end as we are desperate to know if Jude can pull off a mastermind plan that is full of deceit.
Overall, this book captured my interest almost instantly with its combination of intriguing characters, complex plot, dark twists, and the incredible magical world of Faerie. Although the beginning seems to wander a bit, the epic culmination of the book brings most of the earlier events together and wraps up the story nicely while still managing to leave me anxiously waiting for the sequel!
The Cruel Prince is the first book in the new Folk of the Air series from Black, following her two previous young adult trilogies, The Modern Faerie Tales and The Curse Workers. Black is also well known for The Spiderwick Chronicles and her work with Cassandra Clare, author of The Mortal Instruments, on the Magisterium series.
A copy of The Cruel Prince was provided by the publisher for review.
———
How do you win a copy of The Cruel Prince? Simply enter our giveaway via Rafflecopter below!
NOVL has partnered with MuggleNet to provide one lucky reader a Queen of Faerie prize pack, featuring the newly released The Cruel Prince! Included in the prize pack:
What are you waiting for? Join Jude on her adventure in Faerie by entering for your chance to win a copy of The Cruel Prince!