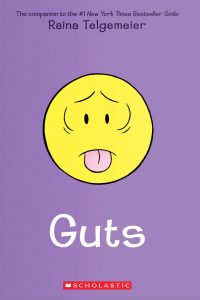 I have nearly always lived an anxious life. There are times – days, weeks, years even – that are worse than others, and many more that are easier. I am just now, in fact, coming out of a two-year stretch of heightened anxiety thanks to some health issues. For years prior to that, I was mostly fine. It waxes and wanes, and while I will never be rid of it, I am looking forward to it fading into the background of my life once again.
As a younger child, looking back, I can recognize that a lot of the fear and worry I felt was actually anxiety. This is what Guts explores within its graphic pages. The lead character, Raina (named after the author, obviously), starts to develop some weird tummy aches after a stomach bug. The tummy aches evolve into panic attacks, which affect her life in numerous ways. I nearly funked my seventh-grade year due to basically the same situation, but mine stemmed from a classmate getting sick in the science classroom. I came up with every excuse in the book not to step foot back in that classroom, most of my reasons starting and ending with a stomach ache.
The beautifully illustrated pages show Raina turning down lunch (artichokes, what she had the night before the, ahem, event), having a panic attack, running to the restroom in the middle of a school presentation, dealing with avoidance and anxiety when her little brother is sick at home, questioning classmates about why they were out the day(s) previous, and so many other very real situations, experienced daily by people of all ages. The way that anxiety and fear and avoidance and coping mechanisms are portrayed is so close to how I have personally experienced it, I almost felt like this book was about me.
Guts may be a graphic novel and it may be intended for a younger audience, but I found myself devouring the story and imagery, completing it in just around a half hour. I can't remember the last time I related so closely to a character, and I can only imagine what a book like this would've done for me during my seventh-grade year. I hate to use such a cliche term, but if you have a child with even a hint of anxiety (in today's world, how can one not?), then I cannot recommend Guts enough. I have a very, very small personal library, less than a dozen books, as I don't believe in purchasing (I do frequent the local library), but I can say with confidence that Guts has found a permanent home in my personal collection.
There is a note from the author at the end of the novel that discusses her struggles during her primary school years and how they inspired the novel. I too felt a kinship here, as she notes her experiences with emetophobia and, in recent years, the plethora of therapies offered to an otherwise seemingly healthy 30-something. Guts will be a part of those therapies for me for many years to come.
A copy of this book was provided by the publisher, Scholastic, for review.