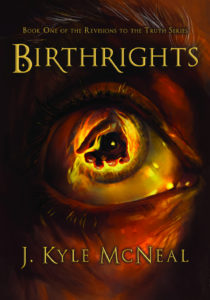 Against the backdrop of a world at the brink of war and ruled by the Machiavellian principle that "the end justifies the means," Birthrights is an enrapturing story written by J. Kyle McNeal, the first of the Revisions to the Truth series.
Written in alternating perspectives, Birthrights shares with us the lives of Whym and Quint, two young men born to completely different circumstances who fight for the right to write their own destinies.
From one perspective, we have Whym, who refuses to live with the shame of his grandfather's treason and be condemned to become the Ratman after his father. Determined to change his fate, he becomes a seeker in the hopes of abandoning his accursed homeland, undertaking a journey that transforms his body and soul completely.
The book's other perspective is that of Quint, who was born and raised to take his father's place as a powerful religious leader. He chooses to abandon a life of benefits consumed by a faith he doesn't believe in and joins the fight against a corrupt council as the advisor of a remote tribe, where he begins his own personal journey of self-discovery.
In a universe tainted by corruption, touched by magic, mystery, and even love, Birthrights is the perfect story for those looking for a new fantasy series with a medieval touch.
Personally, I wish the author had included a glossary with the definitions of the terms commonly used in the story. At the beginning, it was difficult to understand some terms used, and it was necessary to guess or deduce them from the context. But on the bright side, the maps and the art of the book are beautiful and give the readers a visual of the world described in the story.
A copy of this book was provided by the publisher for review.