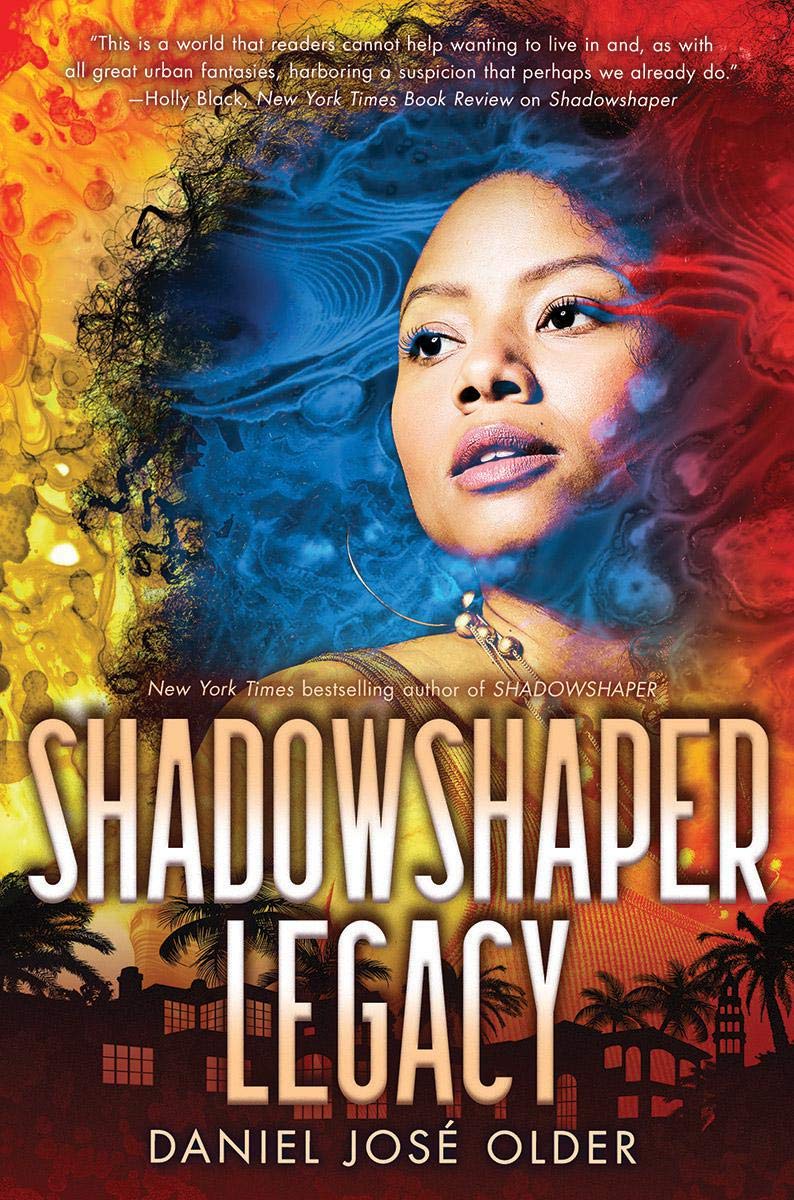 Shadowshaper Legacy is the third and final installment in Older's Shadowshaper trilogy, and this over-400-page epic is sure to leave fans of the series satisfied. The book opens a few weeks after the events of Shadowhouse Fall, with Sierra and the other shadowshapers facing down the ruthless Bloodhaüs in a field in New Jersey. Juan, Anthony, and Izzy are still in prison, protected by an uneasy alliance with the House of Iron. In short, things are kind of a mess, but with Sierra in full command of her shadowshaping ability and leading the House of Shadow and Light, she's ready to disrupt the traditions of the Deck of Worlds and fully embody the powerful legacy she's inherited from her foremothers.
If you haven't recently read Shadowshaper and Shadowhouse Fall, I would recommend revisiting them before embarking on Shadowshaper Legacy. Otherwise, the intricate structure and politics of Older's richly imagined world will come at you hard and fast, leaving you little time to recover. This is especially true because a major theme of Shadowshaper Legacy will be exploring the relationship between the two distinct sources of power in the series (shadowshaping on the one hand, the Deck of Worlds on the other).
I love that Shadowshaper Legacy manages to be two seemingly incompatible things at once: a non-stop action novel, where someone is always getting chased, threatened, beaten down, or shot at, and a powerful rumination on family, legacy, forgiveness, and the power of storytelling. At times the plot felt almost chaotic, with barely any time to pause between events, but it never felt overwhelming because that chaos was balanced by small moments of intimacy between characters we've come to care for over the course of the series. Interstitial chapters also recount the origins of shadowshaping and the creation of the Deck of Worlds, providing a break from the near-constant peril in which the characters find themselves (and telling a compelling story in their own right).
These interstitial chapters also really contribute to Shadowshaper Legacy feeling like a satisfying end to this story. Too often conclusions to a series try to hide the big revelations until the very end – as if keeping some big secret from the reader is the only way to keep them interested. Older saves some aces for the tail-end of the novel, but it never feels like a gimmick because we've been working toward those answers for the whole book, putting the pieces together alongside Sierra as she seeks to fully understand her inheritance.
Finally, I loved the way this book centers women of color, their power, and their connection to one another. We get a whole book of Sierra being in charge and being a leader! This isn't a story of her coming into her power or adjusting to the demands of leadership. She doesn't doubt herself and neither does anyone else; she knows the full extent of her power and so do those around her. But even as she shines, it's always clear that she doesn't do it alone. The trust among the ensemble as a whole is a major factor in their victory.
A copy of this book was provided by the publisher, Scholastic, for review.