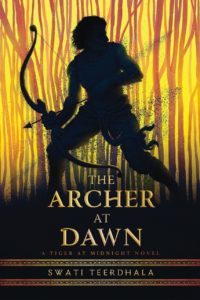 Swati Teerdhala is back with the next book in the Tiger at Midnight series, The Archer at Dawn. Her second book continues to follow Esha and Kunal through the rich, ancient-India-inspired world of warring countries Jansa and Dharka.
We left the pair in the middle of the jungle at the end of The Tiger at Midnight, having chosen each other over their respective countries. The Archer at Dawn opens with Esha and Kunal still among the trees. They are hunting down a guarded transport they're convinced is hiding the lost Dharkan princess, Reha.
From the start of the series, Esha and Kunal's magnetic connection drew me in. Tensions grew as they chased each other across Jansa, and now that they've united, the stakes are only getting higher. Just as richly described as The Tiger at Midnight, The Archer at Dawn takes us out of the jungle and into the Pink Palace of Gwali. Here, in the capital of Jansa, royals from the countries at war are meeting for the first time to talk peace.
Full of twists and turns that I was frequently surprised and delighted by, The Archer at Dawn was a compelling continuation of Esha and Kunal's story. Themes begun in The Tiger at Midnight continue into this book – characters are again forced to reexamine their beliefs and confront difficult truths about the systems they work for.
Kunal, while assisting Esha's rebel group, the Crescent Blades, enters the Sun Mela games thrown by the invader king of Jansa. Kunal finds himself having to yet again choose between his old friends and his new, and everyone, it seems, is keeping secrets from him.
Meanwhile, Esha is stuck with a difficult decision of her own as she navigates the political intricacies of the peace talks. Reunited with her beloved Crescent Blades, the truth she's hiding about Kunal's true identity begins to wear at her bond with the Blades' co-leader, the Dharkan prince Harun.
One of Teerdhala's strengths in both novels is her worldbuilding and descriptions. She creates an incredibly vivid place, where the mangoes are sweet and the clothing is magnificent. The characters' close bond with the land itself is present on every page.
Told from alternating points of view between Esha and Kunal, Teerdhala presents two distinct voices. I was constantly rooting for the success of both – even when their plans turned out to have very different goals.
Pick up copies of The Tiger at Midnight and The Archer at Dawn for peak enemies-to-lovers romance. Keep reading for the intricate worldbuilding, the lush descriptions, and fiery, unforgettable characters.
A copy of this book was provided by the publisher, Harper Collins/Katherine Tegen Books, for review.