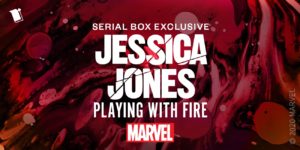 If there's one thing I wish the Marvel Cinematic Universe would acknowledge, it's the team of somewhat scrappy streetfighting heroes known as the Defenders. I fell in love with the team, starting with Netflix's Daredevil, and just as quickly, I found myself a fan of Jessica Jones, the superhero private investigator with a chip on her shoulder who still occasionally lets her most heroic side shine through. Jessica is a highly complex character who gives the viewer a lens into difficult situations, and yet she shows that strength isn't always just about physicality. I was thrilled to get the chance to dive deeper into the character through the new audio comic Jessica Jones: Playing with Fire from the premium reading and audio entertainment platform Serial Box. 
Marvel's Jessica Jones: Playing With Fire is a multi-part series that will be released beginning May 28 with the first three installments, followed by weekly episodes. When a teenager with powers goes missing, Jessica Jones is determined to find the boy and solve the case. But as she's drawn deeper into the mystery, all avenues lead her to a dark, ancient, and deadly magic – and Jessica can't pull herself away from the truth. The episodes will be available for both reading and listening.
Though I love the film and TV offerings Marvel has, I've been a bit intimidated by the enormous scope of print and comic offerings and have been slow to get into them. That being said, I was fascinated by the first three episodes of this series, and when I finished them at about four in the morning, I was eager for more. I wasn't able to listen to the audio recording of the episodes that I reviewed, but just by reading them, I could see the great potential for what audio would bring to the story.
The writing itself is highly immersive and full of sensory imagery that pulls you into Jessica's world. The present tense and close point of view make it feel like you're right at her shoulder as she dives into this new mystery. However, the pacing feels a little slow at times, and I found myself impatient for the action to move forward. That being said, the short sentence structure and detailed descriptions truly make the reader feel like a detective themself and help bring the case and the world to life.
I appreciated how the writing deals with Jessica and her trauma, especially as she attends therapy and the affirmations for that healing process, even from a character who normally despises help. The way Jessica copes with her past trauma, both in therapy and through her work, feels true to life and understanding. The all-female writing team truly gives the best perspective for this character and includes diverse representation, including non-binary characters. Four-time Hugo Award finalist and blind writer Elsa Sjunneson gives an authentic take for the blind lawyer and vigilante Matt Murdock. The writing team also includes bestselling novelist Lauren Beukes, Zoe Quinn (Vertigo's Goddess Mode), Vita Ayala (Marvel's Nebula, Age of X), and television writer Sam Beckbessinger. The series is narrated by voice actress Fryda Wolff. 
With a fascinating setup and new insights into the Marvel universe and one of its best characters, this is a series you don't want to miss. The contrast of gritty realism and enduring hope that runs throughout the first three episodes will leave you wanting more and wondering just where these twists and turns will lead. If you're looking for something to fill the need for a strong female superhero now that other entertainment outlets have been delayed, this is for you!
About Serial Box:
Serial Box delivers premium audio and reading entertainment for an on-the-go audience that loves immersive storytelling. Serial Box is available on all mobile devices, and users can read or listen to each weekly installment, switching modes with just a click. Serial Box uses a collaborative writing process, bringing together award-winning and bestselling authors to create completely original stories as well as new content around some of fandom's most popular characters. Follow Serial Box for updates on Twitter, Instagram, and Facebook.
A copy of this book was provided by the publisher, Serial Box, for review.