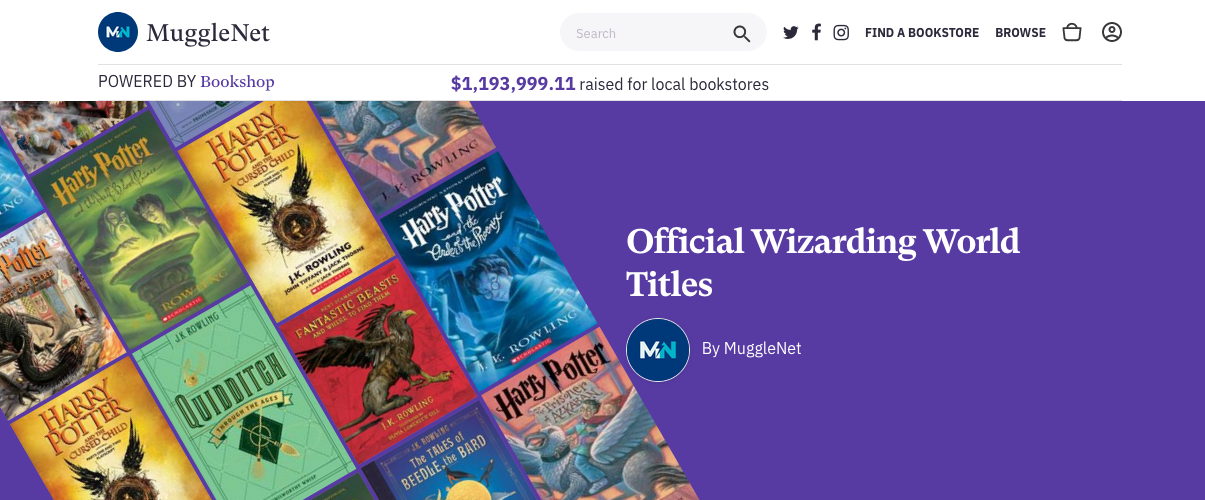 We're a big fan of independent bookstores here at MuggleNet, which is why we're happy to announce that we're now a Bookshop affiliate! Bookshop offers all of the convenience of ordering books from the comfort of your own home – including discounted prices – but instead of benefitting a large corporation like Amazon, sales benefit independent bookstores in your communities.
Buying books online has become second nature to many of us, but there are tons of reasons why you may want to choose to support an independent bookstore instead:
If you shop locally, more of the money you spend stays in your community, supporting jobs and community services that are funded by your taxes.
A knowledgable staff – not an algorithm – can point you toward your next great read.
Independent bookstores foster a community of readers and writers, hosting events where book lovers can gather and connecting you with your favorite authors.
Independent booksellers are an integral part of supporting debut and little-known authors – their support could mean the difference between an author continuing to write or pursuing other career paths.
And so much more!
During times of economic distress and uncertainty, there are even more reasons to support your local indie. Like many other retail businesses, independent bookstores have lost considerable business during the shutdown. If we want there to still be bookstores to browse in the future, we need to be sure to support them now. And with so many people homebound, online businesses are busy ensuring that essential items can be delivered to those who need them. Purchasing books through Bookshop or directly from your independent bookstore alleviates pressure on warehouse workers, in addition to supporting a vital part of our literary community during this difficult time. Plus, you won't have to deal with long delays before you get that latest new read!
If you, like us, feel that supporting independent bookstores is a priority, check out our Bookshop store, featuring Wizarding World titles, staff picks, and more – and watch for Bookshop links on all our future reviews. We'd like to think it's what Hermione would do.