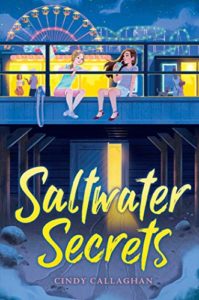 Half-sisters Stella and Josie only see each other over the summer, when they visit their dad in New Jersey. Their summers on the boardwalk have always been the same – Water Ice, rides, their secret hiding place, and local beach friends. But the summer before their freshman year of high school, things are different: Water Ice – the best frozen treat shop on the boardwalk – has been replaced with a hip smoothie place called Smoothie Factory; their hiding place has been wiped clean, and their special treasure box is missing. Amid all this change, Stella wants to fit in with the older kids, but Josie still wants to hold on to her childhood – and there's something not quite right about the boardwalk…
Stella, who had gotten into some trouble during the school year, just wants a summer of bonfires and boys and getting a nice tan. Josie just wants things to be the way they've always been. Neither of them gets their wish when they discover that the owner of Smoothie Factory is exploiting the natural habitat and endangering the marine life and the boardwalk itself.
We get Saltwater Secrets in a series of flashbacks to the events on the boardwalk and interviews with the police. For most of the book, we don't know exactly what happened, only that it involves the smoothie place, dead jellyfish on the beach, the eccentric Mr. Rodney, and a pop star's summer concert. I thought that this was an interesting way to drive the story. The interviews gave a little bit of a lead-up to what I was about to read next, and I really liked the difference in the internal monologue of each girl when faced with the police chief. I didn't like that it took nearly the entire book to really figure it out, but I guess that's a mystery for you!
I haven't read any of Cindy Callaghan's other wildly popular books, but I really enjoyed this YA take on a cozy mystery. I felt like Callaghan created authentic characters and really thrust me into a teenage summer by the shore. I would recommend this book to readers who have read her other books and readers of the cozy mystery genre.
A copy of this book was provided by the publisher, Aladdin Books, for review.