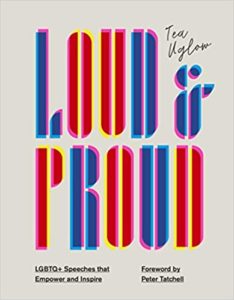 Loud & Proud is a collection of speeches by noteworthy members of the LGBTQ+ community and its allies. These people have changed the course of history for the queer community, both in the time they made their speeches and today. There are 44 speeches over the course of 152 years in the 176 pages of this book, beginning in the year 1867. Before each speech is a short bio about the speaker. Author Tea Uglow writes these introductions.
While I was reading through the many, many speeches that are in Loud & Proud, there are a few things I noticed.
First, I do have to say that this book is indeed proud to be loud. I mean that as a compliment. The pages are colorful and bright. Photos of all the speech-givers are splashed with styles that seem to suit them personally.
Second, I do like that it runs chronologically. It starts with a speech given by Karl Heinrich Ulrichs in 1867 and moves through time until 2019. Not every year has a speech, but it notes the most important ones.
Third, there are many people I do not recognize on these pages. But there are people I do recognize, and that makes me want to skip through and read their speeches. For example, I don't know Anna Rüling, the German journalist and lesbian activist, but I do know George Takei, Barack Obama, and Sir Elton John. While I did read the speeches of those I both do and don't recognize, I felt that I connected with those from the past 20 or so years. Maybe it's a generational thing. I found it much easier to relate to people I currently share the world with. Don't get me wrong: I still admire the feats and fights of the people I don't recognize, but I think I understand the more recent ones better.
Fourth, I really wanted to love this book with all my heart. But I didn't find myself ready to grab my rainbow flag and head for the streets. I only kind of liked the book. When I was offered the opportunity to review this, it sounded almost like it was going to be stories of LGBTQ+ people and their experiences. But after figuring out it was a collection of speeches and reading through them, it felt like the author and publisher were looking to create a user's guide to queer people's public appearances. Ultimately, they did succeed in this. Loud & Proud is a collection of history's most impactful LGBTQ+ speeches.
I would also like to thank Tea Uglow, the author, for putting this book out because there is a lack of education about LGBTQ+ history. I think this book would be good for someone who may not know the history behind the LGBTQ+ community. But to me, it does more to educate those who are uneducated than inspire those who need inspiration.
A copy of Loud & Proud was provided by the publisher, White Lion Publishing, for review.