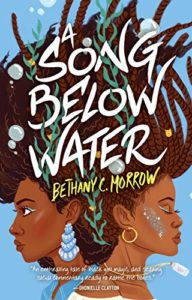 Bethany C. Morrow's A Song Below Water is about the power of voices. Morrow has written a beautiful urban fantasy book about Tavia, a siren forced to keep her identity a secret, and Effie, who's trying to unravel a mystery from her past.
Even though the girls' world is filled with sirens, gargoyles, and elokos (reimagined by Morrow), you'll recognize it – it's not so different from our own. I don't know when exactly Morrow finished this book, but its release on June 9 felt very timely. Morrow uses the fantasy in this book to punctuate the very real circumstances in which Black girls find themselves. Tavia feels a constant pressure to keep her siren identity hidden and even relies on a network of allies to help her hide her secret. When other Black women come out as sirens (or are accused of being sirens so their killers can walk free), they are brutalized and silenced.
Morrow alternates between the girls' points of view and tells two very different stories. Tavia knows who she is, and throughout the book, she is attempting to find her voice in a system that rejects her. When the girls show up at a rally, Tavia feels at home. She's empowered. Tavia isn't questioning her existence as a siren but rather how she can make space for herself in a society that's designed to work against her. You'll find the truly timely statements in her chapters, such as "I can't decide whether I'm glad they're listening or whether I'm annoyed that the conversation's gone unheard for so many years. I think I'm both."
Effie's story is more about discovery. An incident in her past has gone unresolved and still haunts her. She usually finds peace while swimming as a mermaid at the Ren Faire, but this year she's not so sure. In Effie's chapters, you'll find more of a mystery as she attempts to unravel what happened in the past and who she really is.
Both girls' stories are extremely compelling, and throughout the novel, they're nothing but supportive toward each other. Their love is one of the strongest aspects of the book. A Song Below Water is a beautiful read that will stick with you, as it should. I didn't realize going in that this book was urban fantasy and not high fantasy, but the choice works so well. The fantasy elements complement the themes, and Morrow's writing is excellent. This will be an empowering read for Black girls and a valuable one for anyone looking to understand the harmful effects of misogynoir.
Plus, did you see that gorgeous cover??